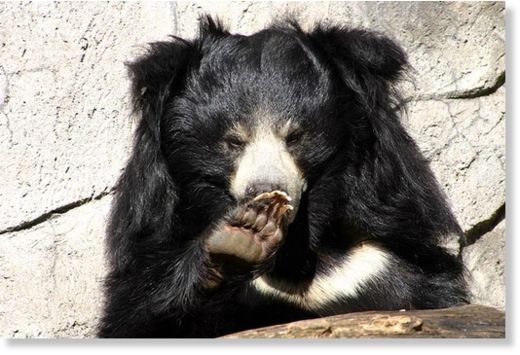 A sloth bear mauled three people in separate attacks near village Morwai under Saoli range on Thursday morning. Two of them, including a three-year-old boy, sustained critical injuries in the attack and have been admitted to civil hospital here. Forest department has launched intensive search operation to locate the violent bear and have issued warning in the villages around.
As per reports, Mul and Saoli tehsil witnessed thunderstorm on Wednesday night. Patruji Ghote had taken his three-year-old son Swaraj to collect mangoes fallen in their farm after the thunderstorm in the morning. While Ghote was collecting mangoes, the bear attacked his son Swaraj who was eating mango under the tree some distance away.
The beast ripped his throat with its sharp nails before his father could rescue him from its clutches.

"The bear attacked two more persons in separate farms while heading towards the forest. Mahadev Jharkar, who was attacked after Swaraj in nearby farm, sustained critical injuries. The bear also attacked other farmer Chandu Jharkar in his farm some distance away, but he escaped with minor scratches,"
said RFO, Saoli range, MP Rathod.
A team of foresters, led by RFO Rathod, immediately rushed to the spot and shifted the injured to Mul subdistrict hospital. Critically injured Swaraj and Jharkar were shifted to Chandrapur civil hospital as their condition deteriorated.
Sources claimed that Swaraj was given seven stitches on his throat to patch his wound. Jharkar, who had suffered multiple injuries, required 120 stitches to sew all his wounds.
RFO Rathod said they have launched search operation to locate the problem bear. He suspected that the bear had come to the farm lured by the fallen mangoes. Forest officers have warned the villagers against venturing alone in their farms till the whereabouts of violent bear is located.
Kin of the injured were given an ex-gratia of Rs2000 each, while forest department would bear the entire cost of their treatment. CCF, Chandrapur, Sanjay Thakre and DFO, Chandrapur forest division, SS Patil visited the spot and took stock of the situation.