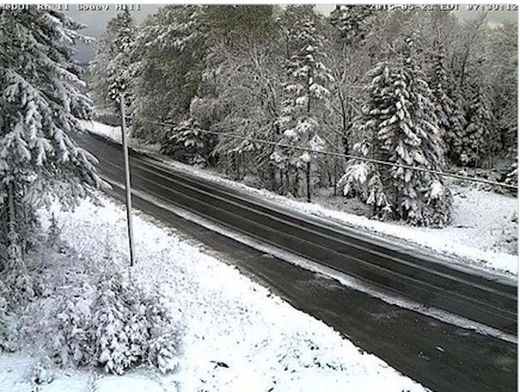 The start to the Memorial Day weekend, which is the traditional start to summer, was greeted with a reminder of winter in some areas of northern New England.
Snow came down heavy at times Saturday morning in northern New England. Visibility dropped to a quarter mile at times due to the heavy snow.
The snow was due to a cold upper-level low that moved through the region. Light rain changed to snow in spots early Saturday morning as temperatures continued to plummet. High temperatures on Friday afternoon reached the 50s and 60s but dropped to the 30s and 40s by sunrise on Saturday.
Below is a picture from Portage Lake, in northern Maine, from Saturday morning.
One inch of snow accumulated in Presque Isle, Maine and 5.2 inches was reported near Portage, Maine.
The snow this morning is the second latest measurable snow on record in Caribou, Maine. The latest measurable snowfall in Caribou is 0.2 inches on May 25, 1974.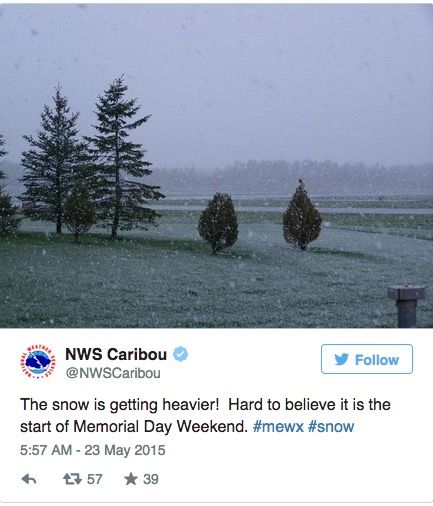 Chilly Start to the Holiday Weekend
Temperatures dropped into the 30s for parts of northern New England and Upstate New York on Saturday morning as high pressure moved into the region from Canada. Frost and freeze warnings were issued for Friday night and Saturday morning across portions of the Northeast.
A record low was even set in Glens Falls, New York when the temperature fell to 31 degrees.
It was even colder on Mount Washington in New Hampshire where temperatures bottomed out at 10 degrees with a wind chill of 18 degrees below zero when a wind gust of 68 mph was reported. Snow was also reported here overnight.
It will remain cool during the afternoon, with high temperatures up to 10 degrees below where they should be for this time of year. Winds will be gusty at times which will make if feel even cooler.
The good news is that this will not last long as a significant warming trend is on the way. Northern New England will go from winter on Saturday morning to summer by Monday.
Skiing for Memorial Day
If you are not quite ready for summer activities yet and have not put your skis away then you may be in luck. Parts of the Rockies and Sierra Mountains have also seen snow recently, which is allowing a few resorts to stay open for skiing this holiday weekend.
Arapahoe Basin
in Colorado is open this Memorial Day weekend and has more base to ski on than they did in March. They also reported some fresh snow on Saturday morning.
Mammoth Mountain in California
will also be open this Memorial Day weekend
due to snow that fell last week. They are offering a ski, bike and golf package.