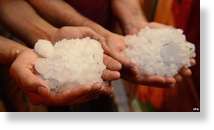 At least nine people have been injured and dozens of homes damaged in a hailstorm in southern Germany.
There were reports of hailstones the size of golf balls in the state of Baden-Wuerttemberg.
Winds of up to 120 km/h (75mph) were reported on Wednesday night and residents near the Bavarian city of Augsburg spoke of seeing a tornado.
Roofs were badly damaged, blocks of flats had to be evacuated and a local school had to be closed on Thursday.
Two people were taken to hospital with severe injuries caused by lightning strikes.
Seven more were hurt in Bavaria, where several houses in villages near Augsburg were no longer habitable. Authorities appealed for help from construction workers to repair the damage.
"First it rained, then very briefly hail, then there was a whoosh and everything flew through the whole area!," one resident told Bavarian media.
German weather officials did not confirm claims of a tornado.
One person was killed last week in northern Germany when a tornado swept through the town of Buetzow, near Rostock.