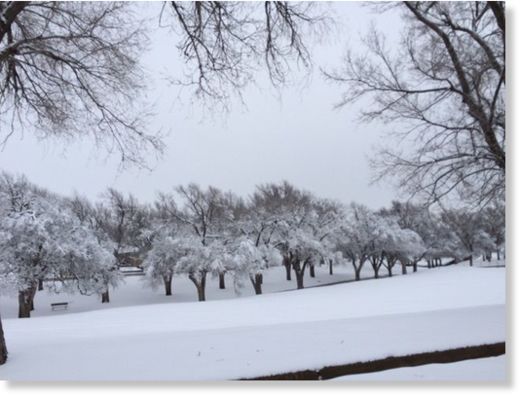 Last week the National Weather Service in Amarillo had mentioned the possibility of a winter storm impacting our region on Wednesday and into Thursday of this week.
Many residents didn't buy into the potential snow storm. That might have been because of the 70 degree weather we had just this past weekend or the fact that so far all the snows have been "duds" this year.
As the storm system got closer and closer the forecast model projections went up and up in their total accumulation expected. It got the point that it was not a matter of if we would see snow, but how much. A lot of that depended on where the convective bands of snow set up. One was on top of Pampa early in the system and that is why we got a higher total than projected.
A co-op observer recorded 4.4 inches of snow one mile northwest of Pampa. Another co-op observer recorded eight inches four miles west southwest of Lake McClellan. A public report came into NWS of nine inches for Pampa city limits.
Another band brought record-breaking snow to Amarillo and dropped snow at a rate of four inches per hour for the folks there.

Amarillo recorded 12 inches at the NWS office, which is near the airport. Some places in Amarillo recorded upwards of 15 inches. That broke the record for snowfall in Amarillo on Jan. 21. The previous record was for 4.9 inches that fell on that date in 1966.
Want to hear another fun fact? It was the eleventh snowiest day on record in Amarillo. The records kept by NWS go back to 1892.
Amarillo also received more snow Wednesday than Boston, New York City, Pittsburgh and Philadelphia have the entire winter thus far. And that is just to name a few.
Other snow totals across the region:
- McLean - 10.5 inches, report by the public.
- Lefors - 1 inch, by a trained spotter. That report was as of 8:19 p.m. Wednesday.
- Borger - 5.7 inches, by a co-op observer.
- Miami - 6 inches, by the post office.
- Panhandle - 8 inches, by the public.
- White Deer - 9 inches, by the public.
- Canyon and two miles south southeast of Amarillo - 13 inches, by the public and broadcast media. These were the highest official totals that the NWS office had on record as of 2 p.m. Thursday.
When will the thaw happen?
Today should be sunny and highs in the 40s. The sun coming out will really up to thaw things out. There was a lot of snow, so there will be a lot of melting in the day and icing at night. Travel should be taken with caution until the weekend.
Saturday should approach near 50. Sunday should be almost in the 60s and the first half of next week should see highs in the mid-60s with sun every day. All of the snow will be gone quickly once we start seeing those highs in the 50s and 60s.
Is winter over?
It is far from over and if you are a lifelong Panhandle resident you should know that the winters here are very unpredictable and we can sometimes see snow in May.
It is way too early to speculate on any precipitation more than a week out, but it looks like next weekend, Jan. 30-Feb. 1, we could see winter creep in here again with another cold shot of air.
How about the roads?
The Pampa News would like to give a big shoutout and thank you to all of the City of Pampa employees that worked countless hours on Wednesday and Thursday to ensure our roads were clear and that everyone could make it to work or school safely. It may not have been the most fun for the kiddos have to tough it out and go to school Thursday, but come June when they don't have to make up that day and all of the other Panhandle students have to go to school one more day they will get to have the last laugh.