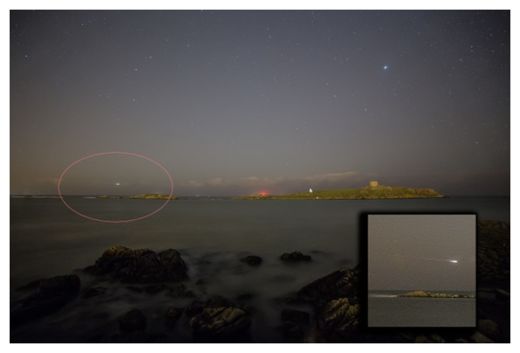 Is it a bird? Is it a plane? No, it's actually a fireball tearing across the night sky yesterday evening. This amazing photo was captured by Graham Harkness (You can view his great portfolio
here
) last night at about 10.30pm. Taking photos of the night sky in Dalkey, Harkness managed to capture this rare sight.
So what exactly is it?
Astronomy Ireland told
TheJournal.ie,
that Harkness managed to capture a rare
photograph of a meteor burning up in the earth's atmosphere.
"It's definitely a fireball, it's difficult to catch a photo of it, he was very fortuitous," said David Moore of Astronomy Ireland.
By looking at sky maps, Moore estimated that the fireball in the photo is about 100 kilometres off the ground.
"It's towards the north east, unfortunately it wouldn't have made land fall in Ireland. Most likely, the drop zone could have been on the west coast of Britain, close to the border with Scotland. I would be surprised if there weren't reports on the west coast of Britain about it as it is rather bright," said Moore.