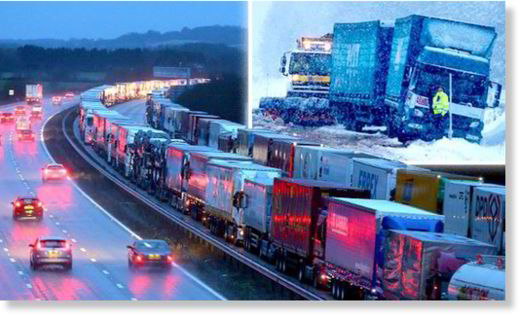 Fierce Storm Rachel has left 1,950 homes without power and sparked travel chaos across the UK after a deluge of snow and torrential rain.
Gale force winds of up to 101mph blasted through Britain today as the churning low-pressure vortex - dubbed Storm Rachel - sparked commuter chaos.
But as the storm caused damage, delays, disruption and power failures, forecasters have warned the worst could still be to come.
Some 149 flood alerts and 32 flood warnings have been issued across Britain this morning, the Environment Agency confirmed.
The Met Office has also cautioned a "be aware" weather warning remains in place across the whole of England, Wales, Northern Ireland and central and southern Scotland for rain and high winds.
The highest recorded windspeed in the UK today is 101mph - reported in Great Dunsell, Cumbria while other exposed and coastal areas documented speeds of 70mph.
A Met Office spokesperson said: "After something of a lull, a further spell of very strong winds, this time from the west, is expected from late Thursday morning onwards into the evening, again with gusts of 70mph or more in places.
"The public should be aware of the risk of disruption to transport and possibly to power supplies."
More than 1,200 homes in Dorset are without electricity this morning after severe winds brought trees crashing down onto overhead lines,
said Southern Electric Power Distribution.
The supplier confirmed its engineers were battling to restore supplies and said the most-affected areas included Charminster, Wimborne and Poole.
The barrage of strong winds blasting Britain last night also left some 750 homes in Wales without power.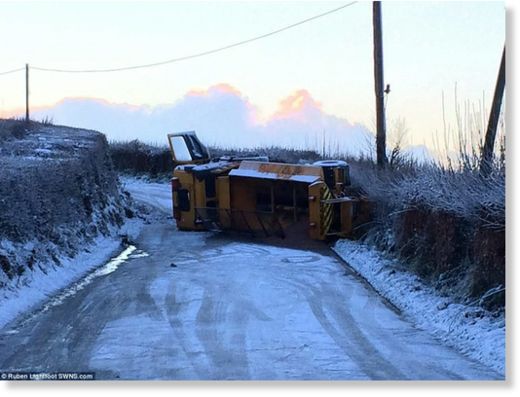 Police officers said fallen trees had also blocked numerous roads across South-West.
One motorist was rescued by Fire and Rescue services after rising floodwaters left him stranded in his car near the village of Corfe Mullen, in Dorset.
Storm Rachel has also affected hundreds of train travellers today.
Commuters passing through Dover Priory, in Kent were delayed for more than an hour after strong winds brought a tree crashing down onto the train tracks.
South West Trains confirmed travellers should expect delays of up to half-an-hour between Bournemouth and Southampton due to flooding near Brockenhurst.
Meanwhile, Operation Stack is in place on the M20 in Kent with a huge tailback of convoys of lorries heading to Dover where cross-channel ferries are being disrupted because of the weather.
The A249 Sheppey crossing in Kent was closed because of high winds but has since reopened.
Several roads across Scotland have been shut after cars ground to a halt in snowy roads and lorries jack-knifed dangerously in the icy conditions.
A dozen schools and nurseries in the Highlands have been shut due to bad weather.
As strong winds and heavy rain continue to lash the UK, the AA yesterday reported it had rescued 57 vehicles and attended 8,200 breakdowns in northern England and Scotland.
Cumbria Police cautioned motorists about the increasingly icy conditions after reports of more than 40 road collisions throughout the county.