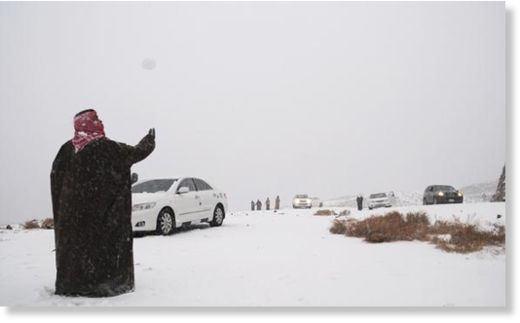 A wave of bitterly cold weather accompanied by wind, sub-zero temperatures and snow is expected to hit the Kingdom on Wednesday and last until Sunday, the
Presidency of Meteorology and Environmental Protection
(PME) said on Monday.
The extreme cold is forecast strike the north and northwest areas of the Kingdom as a result of storms coming from Europe and America. The inclement weather is expected to move across the entire country.
Hussain Al-Qahtani, spokesperson of the PME, said this would be the coldest weather for the year.
The northern areas would be struck first, including Tabuk, Turaif and Al-Jouf, where sub-zero temperatures and light snow is expected. The PME also expects wind that would limit visibility.
The temperatures would likely drop in Madinah, Jeddah and Makkah, accompanied by strong winds. The cold wave would reach its peak on Thursday in Hail, Qassim, the Eastern Province and Riyadh.
On Friday, the storm would reach the Kingdom's southern areas such as Najran, Jazan, Asir and Baha, said Al-Qahtani.
He urged fishermen, drivers using mountain roads and the Kingdom's residents and citizens to take extra precautions to prevent accidents. He advised people to wear warm clothes, especially those suffering from asthma and rheumatism. Al-Qahtani said citizens and expatriates must also keep a close eye on weather forecasts on the Internet and look out for any SMS messages sent out by the various government agencies.
According to weather.com, the temperature in Madinah was 20 degrees Celsius on Monday and would become partly cloudy and drop by Thursday to 18 during the day and 8 at night.
In Riyadh, the weather was 21 degrees Celsius and would drop to 16 during the day and 4 at night by Thursday. In Jeddah, the temperature was 25 degrees Celsius, and would hover at this level throughout the week, and around 16 at night.