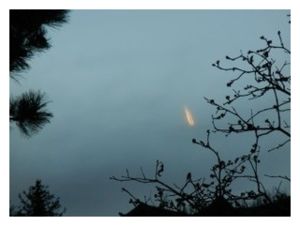 A possible fireball was seen west of Colorado Springs above Mountain Shadows around 5 p.m. Tuesday. The picture was sent to News5 by viewer, Lisa.
Meteorologist Stephen Bowers said it's likely a meteor. He said, "There are reports of this being seen around Denver, too.
It's actually under review by the American Meteor Society to see if it can be classified as a fireball."
Stephen tells us the Geminids meteor shower hit its peak last weekend, but we could still see some meteors linger.
The Geminids is one of the more active meteor showers each year, known for slow-moving, bright meteors.