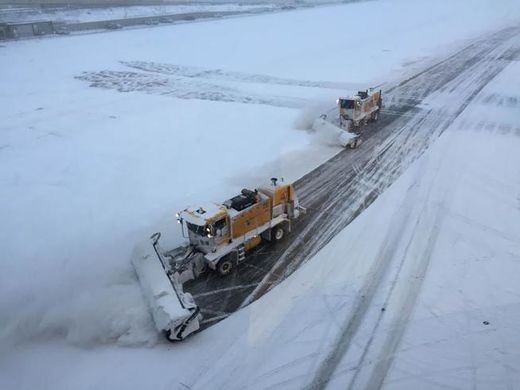 Bundle up, Denver.
And don't plan on getting anywhere in a hurry. Ice- and snow-covered roads were snarled with traffic. Minor delays were reported at Denver International Airport Wednesday morning. Morning flights can expect an hour delay, DIA spokesman Heath Montgomery said.
"We have some blowing snow, icy conditions, but things are running very smoothly, overall," he said.
Weather forecasters say records could be broken Wednesday as day three of the deep freeze continues.
"Very, very cold tonight," said David Barjenbruch, a meteorologist at the National Weather Service in Boulder. "Very, very cold today, too."'
The weather service said the high temperature in Denver on Wednesday is forecasted to reach 5 degrees, with a 100 percent chance of snow.
The coldest temperature ever recorded for a high on Nov. 12 in Denver is 9 degrees, set in 1916. The weather service said that mark could fall, along with the record low for this date of -4.
Denver set a record low high on Tuesday at 16 degrees
, breaking a mark from 1916.
Wind chill values will make temperatures feel as cold as -17 Wednesday. Just before 6 a.m., the temperature at
Denver International Airport
was 1 degree.
Denver weather
forecasters said 1 to 3 inches of snow accumulation was possible in Denver on Wednesday. The
largest snow total recorded
across the Front Range so far from this storm has been in Boulder, where 8.3 inches fell.
Roads across the Denver metro area were icy and snow-packed in spots, especially on bridges and elevated roads. Blowing snow was also making lane recognition perhaps the biggest challenge.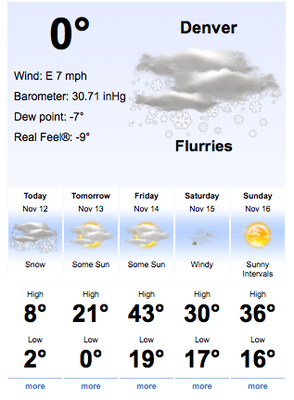 "It's going to continue through most of the day," Barjenbruch said of the snow. "There are going to be bands throughout the metro area."
Between 2 and 4 inches of snow is expected to fall in the metro area today before the bands clear out this afternoon.
Motorists were urged to give themselves extra time during their commute and to drive at slower speeds.
"You're just going to need some patience today," said Barjenbruch. "It's going to be slow during the morning commute and evening commute as well."
Denver Public Works deployed its 70 large snow plows overnight in anticipation of the morning commute.
Denver Public Schools reports its schools are operating on normal schedules Wednesday.