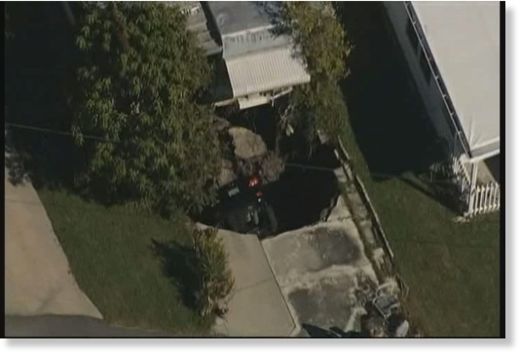 Six Tampa Bay-area families were evacuated from their homes after a car fell into a hole that developed in a driveway.
Pasco County officials say the hole that developed Monday in Holiday was 10 feet wide and 10 feet deep. County spokesman Doug Tobin says engineers had not confirmed that it was sinkhole.
Officials say the mobile home where the hole developed and five others nearby were evacuated as a safety precaution. No one was injured.
"I ran in and grabbed my purse and here I am," Heather Furlani told WFLA-TV, an NBC affliliate. "That's all I got - and my dog."
Furlani just arrived last week from Canada to spend the winter in Florida. She, her husband and their dog Coco were evacuated Monday morning.
Building inspectors have condemned the mobile home on the brink of the hole.
Tobin says the property owner will be responsible for doing a geological survey and fixing the hole. The county is working on a sewer lift station nearby but Tobin says it doesn't appear that the work caused the hole, but "we're not ruling that out."
As
The Christian Science Monitor reported
, sinkholes are relatively common in Florida. Since 2010, about 300 sinkholes have occurred in residential areas.
The state of Florida keeps county-by-county maps of these geological incidents for research purposes, and in Hernando County, where Spring Hill is located, there have been 10 sinkholes greater than 80 feet in diameter between 1947 and 2008 - a high incident rate that has earned the area surrounding Tampa in the central part of the state the moniker, 'Sinkhole Alley.'

Scientists in Florida are also starting a project to predict when and where these sinkholes will form. In 2013, Florida received $1 million in federal grants for a three-year study to create a map that will identify areas based on "relative vulnerability."