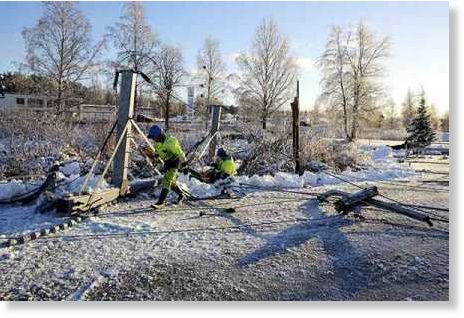 Mercury dives to below 25 °C in Utsijoki
Snow storm caused massive power outage in Pietarsaari region of Ostrobothnia on Wednesday morning.
More than 40,000 customers of the energy company Herrfors were left without power in Pietarsaari, Uusikaarlepyy, Vöyri, Oravais and Kruunupyy areas.
The power outage in the network happened at around half past six in the morning and lasted for about an hour.
Meanwhile, the lowest winter temperature was recorded in Utsijoki.

According to the Met Office, a temperature reading of minus 25 degrees Celsius was recorded at Kevojärvi in Utsijoki following a cold wave on Tuesday night.
On the other hand, abundant snow had fallen in Kainuu since Tuesday night. Snow accumulated to more than 20 centimetres in some places. Road conditions were hampered in some places in northern Ostrobothnia.
Railway control mechanism affected by the power snap in Ostrobothnia was mended, said rail traffic management centre.
Trains were expected to arrive late by half an hour to an hour in Ostrobothnia.
However, some tracks in Vaasa were still defective. Some trains in Vaasa were to be replaced by buses. Delays in Vaasa were also expected to last for half an hour to an hour.