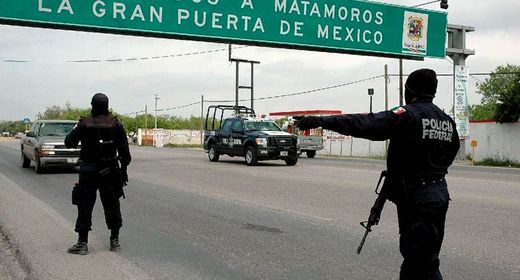 The bodies of three people, tied-up and with gunshot wounds to the head, have been identified as siblings from Texas reported missing earlier this month, a northeastern Mexico state prosecutor said on Friday.
The siblings' suspected abduction might have been orchestrated by local security officials
, said the office of Ismael Quintanilla, attorney general of the border state of Tamaulipas.
Mexican security forces are under pressure, having been implicated in several high-profile incidents recently, with soldiers suspected of executing gang members in late June and police abducting 43 students late last month.
The students are still missing, and their disappearance has sparked large street protests in Mexico.
The cases have battered the image of President Enrique Pena Nieto, who took office in December 2012 pledging to restore law and order in Mexico,
where around 100,000 people have been killed in gang-related violence since 2007
.
Quintanilla's office said they had found the remains of U.S. citizens Erica Alvarado Rivera, 26; Alex Alvarado Rivera, 22; and Jose Angel Alvarado Rivera, 21.
They were abducted on Oct. 13 from the town of El Control, Tamaulipas, just outside the Mexican border city of Matamoros, said the state prosecutors in a statement.
Although the bodies were found in "an advanced state of decomposition," they were physically identified by their father, Quintanilla's office said. A fourth body was also found and has been identified as Jose Guadalupe Castaneda, a Mexican national.
Witnesses said an elite security team that answers to the mayor of Matamoros, Leticia Salazar, was involved in the abduction, the statement said.
Nine members of the team have been called in to give statements and Salazar will also need to answer questions from investigators, the attorney general's office added.
Quintanilla office gave no motive for the abduction.
A spokeswoman for Salazar's office said she could provide no information on the incident for now.