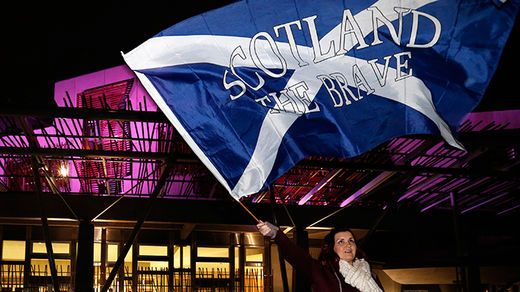 Just six weeks after the referendum in which Scots rejected independence by 55 to 45 percent, a new YouGov poll for the
Times
has found that 52 percent now back a split from the union, as Labour sees its support in Scotland gradually diminish.
The
YouGov
poll put support for the union at 48 percent. The figures will give more momentum to the pro-independence Scottish Nationalist Party (SNP), which wants to see another referendum as soon as possible.
Another vote on whether Scotland should remain in the 300-year-old union with England may be triggered in 2017 if the UK votes to leave the EU. The Scottish are much more pro-European than the English, and want to stay in the European Union.
While Scots believe the results of the last referendum have left the country divided, a separate poll for STV found that two-thirds of Scots want another referendum within a decade.
The results of the YouGov poll came out after the Scottish Labour Party suffered a bad week. Johann Lamont, the leader of Scottish Labour, resigned amidst a barrage of criticism of the party's central London HQ and that the Scottish division of the party was merely a "branch office" of London.
The poll showed that just 22 percent of Scots believe the Labour Party represents their interests and a further 65 percent do not believe it does a good job of representing them.
The figures also show that Scots believe Lamont did the right thing by resigning, with 58 percent backing her decision to quit. A quarter of respondents said that Scottish Labour has no freedom to carry out policies different to the Labour Party as a whole.
Jim Murphy, who is tipped as the favorite to take over the helm of the party in Scotland, is expected to say as part of his leadership campaign that the Labour Party currently has no vision for Scotland.
"If Labour wants to win we must first change ourselves. The Scottish people want change - they couldn't be clearer. They also want better and many want Labour to be part of that improvement. But when they look at us they think we've not listened. It sure looks like that from where they sit so who can blame them?"
Murphy told supporters in Edinburgh.
The United Kingdom consists of England, Scotland, Wales, and Northern Ireland. England is home to about 85 percent of the population, but Scotland - with a small population of just under five million - is richer in natural resources and has about one-third of the UK's land mass.