At least 28 Palestinians were injured as clashes with Israeli forces continued into the late hours of the night on Friday across Jerusalem, as anger over a series of killings by Israeli police boiled over into the streets of the city's Palestinian neighborhoods.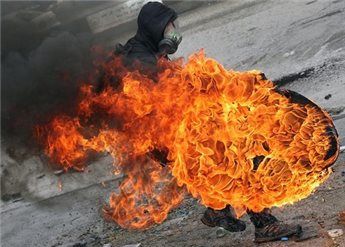 Clashes broke out in the occupied East Jerusalem neighborhoods of Silwan, al-Issawiya, al-Tur, and Wadi al-Joz, as hundreds marched and fought pitched battles with security forces in anger over the killing of Mutaz Hijazi, 32, early Thursday, as well as the killing of Abd al-Rahman al-Shaludi, 21, the week before.
Both men were suspected by authorities of involvement in violent incidents targeting Israelis. But Palestinians have been outraged by their killings,
highlighting that instead of being arrested both were shot dead by police on sight
.
An autopsy on Friday revealed that Mutaz Hijazi, 32, was shot 20 times by different officers and left to die on his rooftop, as Israeli police refused to allow locals to reach him -- and later forced an ambulance to surrender his body, before returning it to the family late Thursday.
On Friday evening, Israeli forces raided the area around Hijazi's home al-Thawri neighborhood in Silwan, and
locals told Ma'an that soldiers attacked a tent set up by the mourning family where friends and relatives were dropping in to offer condolences.
Israeli forces reportedly fired stun grenades, tear-gas canisters, and rubber-coated steel bullets at mourners gathered at the tent, and several men and women suffered severe tear gas inhalation while many others were injured by rubber-coated bullets.
Activist Jihad Oweida told Ma'an that one mourner, Attiya Shabbaneh, was injured by shrapnel from stun grenades in his face and was taken to al-Maqasid Hospital for treatment.
In the Bir Ayyub neighborhood,
Israeli soldiers fired rubber-coated steel bullets and tear-gas canisters at more than 200 Palestinian youths who had gathered to visit the mourning tent set up in Hijazi's home.
Many suffered from excessive tear-gas inhalation and one was injured and received a fracture in his foot. A Palestinian youth identified as Rami Salah was detained by Israeli forces.
An official responsible for ambulance and emergency services at the Palestinian Red Crescent, Amin Abu Ghazaleh, told Ma'an that 28 Palestinians suffered from light injuries, including from rubber-coated steel bullets injuries and tear-gas inhalation, while three were taken to hospitals after they were hit at close range with rubber-coated steel bullets in the head, legs, and stomach.
In the al-Issawiya neighborhood, meanwhile, dozens suffered from excessive tear gas inhalation after Israeli forces fired tear gas canisters heavily during clashes that erupted as Israeli forces detained an unidentified Palestinian.
Clashes also erupted in the Sur Baher village, Wadi al-Jouz neighborhood, and other neighborhoods in the Old City of Jerusalem.
An Israeli police spokesman did not immediately return a request for comment.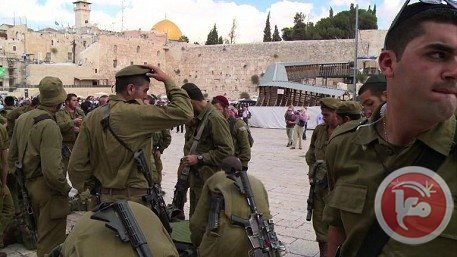 Old City security tight
Also on Friday, Israeli police released the director of the Wadi Hilweh Information Center, Jawad Siyam, along with Yazan Siyam, Muntaser Faraj and Mahmoud Gaith who were all detained Friday on charges of "assaulting" Israeli settlers in September.
It was unclear why the arrests had taken place more than a month after the alleged assault, but some have speculated that the arrests were related to the political nature of the work of the Wadi Hilweh Information Center, which focuses on resisting settler encroachment in the neighborhood of Silwan.
The four were released on the condition to pay a 500 shekels bill each, and were sentenced to house arrest until next Monday.
The clashes and arrests across Jerusalem came after days of intense security across the city, where Israeli police have deployed heavily amid four months of tensions between local Palestinians and occupation authorities.
Police, some in riot gear, guarded a series of checkpoints leading from the Old City's outer gates all the way to the Al-Aqsa compound, an AFP correspondent said.
They checked identity papers of people passing between the barricades, both those on their way to pray and those who worked nearby.
Zuheir Dana, 67, said he was unable to get from his shop to his home.
"I wanted just to get home, which is about 50 meters (yards) away from the Al-Aqsa compound, but police didn't let me through," he said.
"It's been bad every day here since Ramadan," he added, referring to the Muslim holy month that fell in July.
Markets in the Old City, normally bustling on a Friday morning, were nearly deserted due to the security measures.
The security measures followed the unprecedented complete closure of the Al-Aqsa mosque compound -- the third-holiest site in Islam -- for the first time since 1967, which ignited protest across the Arab world and even from the United States.
Palestinian community officials say the wave of unrest gripping the city is fueled by a sense of hopelessness resulting from Israel's policies in occupied East Jerusalem, which have left many young people with a sense that they have nothing to lose.
The arrests of hundreds over summer for participation in protests against Israel's massive assault on Gaza -- which left nearly 2,200 dead in the tiny coastal enclave -- has only added fuel to the fire.
Although Palestinians in East Jerusalem live within territory Israel has unilaterally annexed, they lack citizenship rights and are instead classified only as "residents" whose permits can be revoked if they move away from the city for more than a few years.
They face discrimination in all aspects of life including housing, employment, and services, and are unable to access services in the West Bank due to the construction of Israel's separation wall.
East Jerusalem is internationally recognized as Palestinian territory, but Israel occupied it in 1967 and later annexed it in a move never considered legitimate abroad.