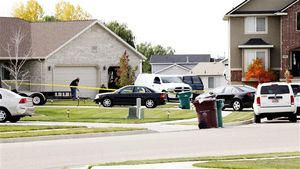 Authorities in Roy, Utah are investigating a 35-year-old man's shooting death at the hands of a police SWAT team hours after he phoned a suicide prevention hotline seeking help.
KTVX-TV reported
that Jose Calzada called the hotline around 4 a.m. on Tuesday threatening to kill himself inside the home he shared with his girlfriend and her children.
Shortly afterwards, dispatchers in Weber County sent the officers to the residence. The other residents in the home left after the call was placed.
A police spokesperson, Detective Matthew Gwynn, told KTVX that a SWAT negotiator spoke with Calzada for about seven hours before the talks "failed." He was shot and killed around 11:15 a.m.
A neighbor, Ron Smith,
told the Ogden Standard-Examiner
that he heard six or seven gunshots coming from Calzada's home.
"It seemed like there was one shot, and then a pause, and then four or five shots after that, that were very rapid," Smith said. "The pause after the first shot was really brief. After that I went inside and shut the door."
The Weber County Attorney's Office is reportedly investigating Calzada's death as a "suicide by cop."
"We encourage those having suicidal thoughts or tendencies to
contact a physician or expert that can talk them through it
," Gwynn said. "In this particular case he attempted to do that - it's unfortunate and sad that it failed."
Watch KTVX's report on the shooting, as aired on Wednesday, below.