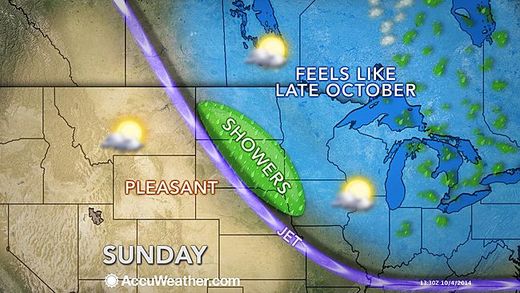 Saturday's snowflakes mark the third earliest snow sighting since the city began recording
Looks like Mother Nature isn't going to let Chicago forget that winter is coming.
The city saw light snow Saturday morning, marking one of the earliest snow sightings on record.
The earliest snow spotting in Chicago is Sept. 25, which occurred in 1928 and again in 1944, according to the
National Weather Service.
Saturday's snowflakes mark the third earliest snow sighting since the city began recording.
The Rockford area also spotted snow Saturday morning, marking their second earliest sighting. The record was set in 1951 when the area saw snow on Oct. 3.
But the snow wasn't the only weather element the Chicago area made the record books with this weekend.
The city set a temperature record with O'Hare Airport recording a high of 47 degrees, marking the lowest maximum high temperature in 79 years, the
NWS
reported. The previous record, set on October 4, 1935, was 48 degrees.
The average high temperature in Chicago for the month of October is 62 degrees. The average low temperature is about 43 degrees.
Blame Saturday's cold snap on winds from the west-north-west brought in by a system that dropped significant rain on the Chicago area early Friday morning.
We're in the range of calendar days when we could see our first fall freeze.
Winds Saturday morning kept frost away from the area despite the snow, but with temps dipping into the 30s overnight and very little wind forecast, the area could see pieces of patchy frost. Temperatures could dip below 32 degrees in some areas.
A Frost Advisory was issued Saturday night for
several Illinois counties and parts of Northwest Indiana.
The earliest a fall freeze ever happened in Chicago was on Sept. 22, 1995. The latest that's ever happened was the 30 degrees reached on Nov. 24, 1931, according to records provided by the National Weather Service.
Sunday looks to recover slightly with partly sunny skies and a high of 56 degrees.
The city will return to near-normal temperatures at the start of the work week with highs forecast in the low- to mid-60s for much of the week.