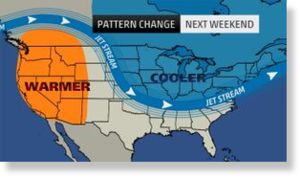 Enjoy the warmth in parts of the Midwest and Northeast this weekend as a temperature shift is on the way. Parts of the northern Plains and southern Canada saw record hot temperatures so late in the season at the end of this past week. Williston, North Dakota and Miles City, Montana both saw the mercury soar to 97 degrees this past Thursday.
Record high temperatures are also in the forecast for parts of the Northeast through Sunday, where highs are expected to climb into the 80s.
Conversely, below-average temperatures will be found in much of the West through this weekend. Changes, however, are on the way heading towards next weekend. There are indications that an upper-atmospheric trough will build into the East, while an upper-atmospheric ridge builds into the West. The past few days we have had a ridge in the East and a trough in the West.
Forecast Highs and Departure from Average
This pattern change will bring temperatures that are 20-30 degrees colder for some locations from the northern Plains. Temperatures will also be cooler in parts of the Midwest and Northeast, where highs will go from the 70s and 80s this weekend, to the 50s and 60s next weekend.
As it cools down in the East, the warmth will make a comeback along the West coast, with highs 15-20 degrees warmer by next weekend. Los Angeles will go from highs in the 70s to highs in the 90s and average high temperatures for early October should be in the low 80s.
In addition to the changes in temperature, many locations will go from wet to dry and vice versa.
A low pressure system in the West will continue to bring locally heavy rain along with a few isolated severe thunderstorms through this weekend. Eight inches of snow was even reported in Lassen National Park in northeastern California, with snow possible in the Sierra Nevada Mountains as well.
Meanwhile, dry and mostly sunny skies will be enjoyed in the Midwest and Northeast through early week.
By late week, however, the system that is currently in the West will push east, bringing showers and thunderstorms back into the Midwest. This will also mean the return of dry and sunny conditions to the West.
There is also the possibility of a coastal low developing off the Mid-Atlantic coast mid-to-late week, that could bring showers to the East coast.
So fall conditions will likely return to the Midwest and Northeast next weekend, while summer won't let go of the West coast yet. Fall is definitely a season of change and this will be apparent to many as we head through early October.