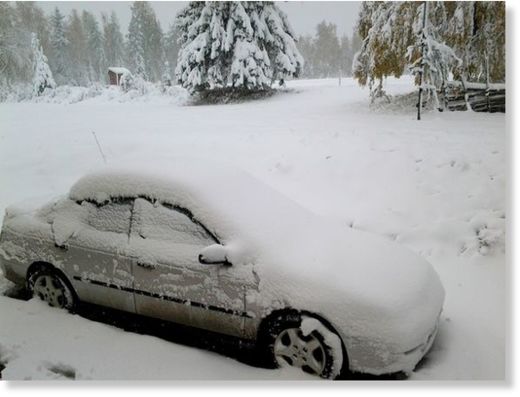 Thick snowfall covers eastern Finland
Heavy snow fell in parts of North Karelia during Monday night and Tuesday morning, along the border with Russia.
Residents in the small town of Ilomantsi, the easternmost in Finland, woke up to find a blanket of over
25 cm (10 inches) of snow.
Authorities warned that roads in the area are very slippery and said there have been reports of minor collisions.
Snowy conditions are forecast to continue into the week.
"The snowfall is new September record for North Karelia," says reader Toni Lund.
"It has been very cold also in Southern Finland, and as I write this, the night temperature is -1 Celsius (30 F)."
This news story with a photo can be found
here
:
Thanks to Toni Lund for this link
See also
this
,
this
and
this
.
Thanks to Argiris Diamantis for these links