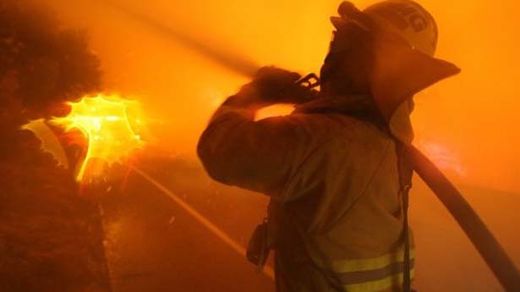 Los Angeles - Hundreds of firefighters spent a second day on Saturday battling a wildfire burning out of control in a national forest southeast of Los Angeles, as the region baked under triple-digit temperatures that prompted authorities to issue a "heat alert."
The so-called Silverado Fire, which broke out in the Cleveland National Forest on Friday morning, had charred some 1,600 acres (647 hectares) by Saturday afternoon as it burned through brush and chaparral left bone dry by California's record drought.
Evacuation orders were issued for more than 200 homes in and around Silverado Canyon as some 740 firefighters worked to gain a measure of control over the flames, assisted by 10 water-dropping helicopters and five fixed-wing aircraft, according to the U.S Forest Service fire-tracking website InciWeb.
The heat wave that has sent temperatures soaring over 100 Fahrenheit (38 Celsius) in parts of Southern California on Saturday and was not expected to break until late Sunday. The sweltering heat prompted Los Angeles health officials to issue a "heat alert" for this weekend, urging residents to take special precautions.
"Extreme heat such as this is not just an inconvenience, it can be dangerous and even deadly, but we can protect ourselves, our families and our neighbors if we take steps to remain cool and hydrated," Dr. Jeffrey Gunzenhauser, the city's interim health director, said in issuing the heat alert.
Gunzenhauser said some 60 "cooling centers" would be open at libraries, recreation centers and other community buildings throughout the weekend, offering shelter to residents suffering from the oppressive heat.
He cautioned that small children, the elderly and pets should not be left alone with no air conditioning and said schools should take precautions during sporting events.
California is in its third year of a devastating drought that has forced farmers to leave fields unplanted and left communities reliant on well water with little to drink.
Mandatory conservation measures forbid actions such as letting sprinklers drench driveways and concrete walkways while watering the lawn, using a hose without a shut-off valve to wash a car and using drinkable water in fountains that do not recirculate it.
Some communities have banned residents from filling their swimming pools, and in Southern California, residents have removed 2.5 million square feet of turf from their front and back yards, replacing water-thirsty grass with drought tolerant plants and other landscaping.