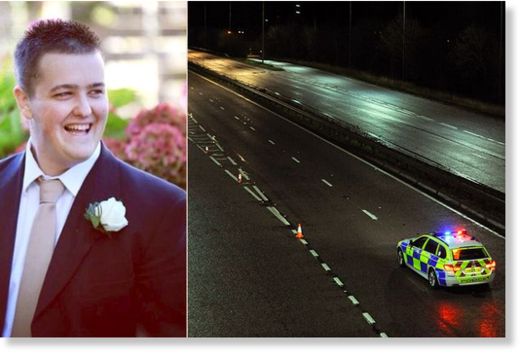 Aaron Frost, 25, was travelling home from work when he was caught in a freak ice storm which caused him to lose control of his BMW and crash into a concrete barrier
A motorist died when
a hail storm turned a busy road into a thick sheet of ice
, an inquest heard.
Aaron
Frost

,
25, was travelling home from work when he was caught in a
freak ice storm.
He lost control of his BMW saloon and crashed into a concrete barrier at the side of the road.
The car then hit a lamp post and overturned before coming to rest on its side in a ditch.
The inquest heard the kitchen fitter was travelling back home to Bognor Regis, West Sussex on the on the A27 near Emsworth, Hampshire.
His best friend Jake Gladwin heard the fatal accident because he was on the phone talking to Aaron through his hands-free kit.
In a statement, Mr Gladwin said he suddenly heard his best friend swear when they were chatting on the phone.
He said: "I heard a crash sound. I tried calling for five minutes but did not get a response."
Wayne Angus, a lorry driver, said the weather changed very quickly that evening, at around 7.50pm on January 13.
He said: "The hail was not coming down,
it was coming sideways - that's when everything started to go crazy."
Several cars and a van on both sides of the road started to skid and spin.
Mr Angus stopped his lorry and spotted the stricken BMW down an embankment.
He added:
"The ice on the floor was thick, I nearly fell over - everyone was skidding."
Paramedics took Aaron to St Richard's Hospital in Chichester, West Sussex, but he was pronounced dead at 9.45pm.
He died from multiple injuries.
Collision investigator PC Stephen Wooton said there were no car defects and no evidence of speeding.
He said Aaron talking while driving could have reduced reaction time, but he could not be sure.
He said it was a "catastrophic impact".
Coroner David Horsley, recording a verdict of accidental death at Portsmouth Guildhall, said Aaron was "blameless" in what happened.
He said: "What happened to Aaron happened in a split second.
"From driving on a perfectly safe road, in a split second, they were all in an extremely dangerous position where we had this flash ice storm."