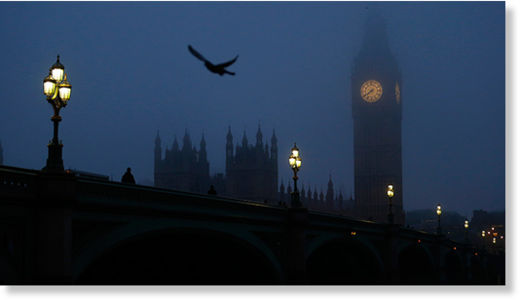 A former official from the UK's social services has said that an alleged pedophile network in Westminster and Whitehall was ignored because "there are too many of them over there."
David Tombs, a former official who ran Hereford and Worcester social services for 20 years,
warned the government about the possible pedophile network after the arrest of notorious pedophile Peter Righton in 1992.
Tombs claims he became aware of the pedophile behavior through a police investigation.
"I had no particular names, but that was the impression I was getting,"
he told
a BBC Radio current affairs program. "It was coming across to me at the time that there were names linked into the establishment, if you like,"he said.
But when he approached representatives from the Department of Health, he was told that
he was"probably wasting his time" as there were "too many of them over there" in Westminster and Whitehall.
Tombs said he thought the issue was serious and of national concern, and that he wanted to make people who made policy decisions aware of what was going on.
But despite his best efforts, Tombs found doors closed in his face.
"I was angry. I was furious. It seemed to me that the one place I should be able to come to, to alert the nation to this issue, was the Department of Health," he said.
But Tim Yeo, who was a junior health minister in the early 90s, said the allegations were "extraordinary"and that he was "not aware" of a culture of child sex abuse.
"I think it's incredible, the idea that any remotely credible evidence had been shown to a civil servant at the Department of Health would have been ignored," he told the same BBC program.
Yeo also questioned why Tombs didn't raise the issue with his local MP.
The latest bombshell comes after news that 114 "potentially relevant files" relating to the alleged child abuse network were lost by the Home Office, prompting fears of a cover-up.
A file on the alleged network, which had been put together by the now deceased MP Geofrey Dickens, mysteriously went missing after he handed it to then-Home Secretary Lord Brittan in 1983.
Peter Mckelvie, a retired child protection team manager, spent more than 20 years compiling evidence of current and former politicians who were allegedly involved in child abuse stretching back to the 1980s. He believes that
as many as 40 MPs and peers were either involved or turned a blind eye.
Home Secretary Theresa May has been under considerable pressure to address the situation. On Monday, she announced in parliament that an independent, transparent, and comprehensive inquiry into the allegations is imminent.
She said the inquiry would investigate why the government did not adequately deal with the claims of child sex abuse when they were first made in the 1980s, and if state bodies breached their duty to care for vulnerable children.