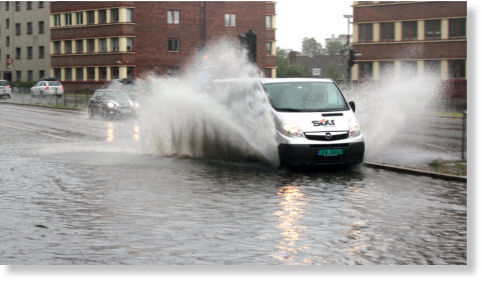 The torrential rainfall that descended on Oslo on Thursday smashed all historical records, with a colossal 44.5mm of rain falling in just a single hour between four and five on Thursday afternoon.
Water streamed down the city's streets on Thursday afternoon, causing gridlock in much of the city centre,
while hailstorms left parts of the city covered in a layer of freak summer ice.

The previous highest rainfall rate the city has seen since records began in 1937 came came in 1980, when 41.5mm of rain fell in an hour over the summer.
"It seems as though we had nearly one month's rainfall in three hours
,"
Marit Helene Jensen told Aftenposten after the rain subsided yesterday evening.
The Norwegian Water Resources and Energy Directorate (NVE) yesterday
sent out flood warnings across eastern Norway, and on Friday were planning to send out similar warnings for the weekend to Agder, Telemark and Buskerud.
The Directorate's Thomas Væringstad told NRK that meteorologists were still uncertain where the next deluge could fall.
"There will be unstable weather in Norway today just like yesterday and tomorrow the rain will come to Agder, Telemark and Buskerud, but we are uncertain of the exact location so we are waiting for the next forecast from meteorologists."
Lightning strikes caused forest fires in the area surrounding the capital and may also have been behind a fire that broke out in an old wooden house in Oslo's upmarket Majorstuen area, causing 40 residents to be evacuated.