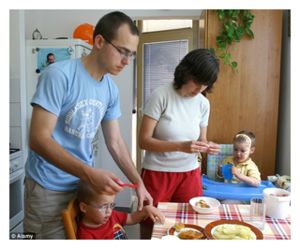 The number of Australian children developing a food allergy has spiked dramatically in the past decade with one in 10 babies being treated before they turn one.
Australia now has one of the highest rates of food allergies in the world, prompting experts to push for a national register to monitor fatalities and severe reactions.
As scientists work to understand why the country's allergy rates have risen, Dr Raymond Mullins, chair of the Australian Society of Clinical Immunology and Allergy, said another 30,000 children develop an allergy to food every year.
'We know from previous studies that food allergy has spiked dramatically in the past 10-15 years. These children are now entering their teens and early adult years where the risk of fatal reactions becomes much greater,' Dr Mullins told the
Daily Telegraph
.
'Anyone with a food allergy, even those currently diagnosed with mild or moderate symptoms, is at risk of anaphylaxis.'
At least six Australians have died from a food allergy in the past eight years but coronial inquests into their deaths found they had not been regularly treated by allergy specialists.
Support group Allergy and Anaphylaxis Australia believes this figure could be higher and has called for a food allergy register to be made a national health priority.
Patients in some parts of Australia can wait up to five years to see an allergy specialist making it extremely difficult for people to get a diagnosis, according to the group's president Maria Said.
'We need more people on the ground. There is an 18-month wait to see an allergy specialist in Queensland and it is five years in the Northern Territory,' she said.