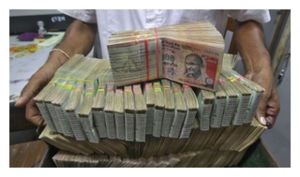 Three of India's four largest states - representing nearly one-third of India's 1.2 billion people - are voting this week on whether to elect well-heeled criminals to parliament.
The population of Uttar Pradesh, Bihar and West Bengal, which together is more than the United States, can count 19 wealthy parliamentary candidates charged with sometimes horrific crimes among their choices.
A recent report
published by the Association for Democratic Reform (ADR), a public-interest group based in New Delhi, shows that 28% of the candidates running in the three states are
crorepatis
, individuals worth over Rs 10 million (about $167,000), a huge amount of money when
the median annual income is $616
.
And 19 of the
crorepati
candidates are also facing criminal charges, 16 of them serious criminal cases, like murder. For some, like Dhananjay Singh, who is worth Rs 27.7 million (about $462,000), murder is just the beginning.
He is charged with the following eight crimes:
two charges related to murder
one charge related to rape
one charge related to criminal intimidation
one charge related to causing disappearance of evidence of offence, or giving false information to protect an offender
one charge related to attempt to murder
one charge related to voluntarily causing grievous hurt
one charge related to buying or disposing of any person as a slave
(Yes, that last one says "buying or disposing of any person as a slave.")
The wealthiest offender is former gangster Mukhtar Ansari of Uttar Pradesh, valued at Rs 186 million ($3,099,485). He's charged with 4 counts of murder and another 4 of attempted murder, as well as intimidation, forgery, misappropriation of property and criminal conspiracy.
Despite the criminal charges, the 19 are career politicians who have won elections in the past - and who don't seem to have any intention of retiring from politics due to run-ins with the justice system. Notably, Mukhtar Ansari, the gangster-cum-politician,
filed his nomination from Agra Jail
, where he is awaiting trial for murder and other crimes.
In addition to moneyed criminals, the three states collectively house over 43% of India's poor. Specifically, Bihar is the Indian state with the highest percentage of population living below the poverty line at a phenomenal 81.4%; Uttar Pradesh counts 69.9% of its citizens as poor and West Bengal 58.3%.
Most of these wealthy criminal parliamentary hopefuls are in Uttar Pradesh, home to 12 who are worth an average of Rs 54 million (about $900,000) each. The three accused candidates from Bihar and four from West Bengal are each worth around Rs 44 million (about $733,000).