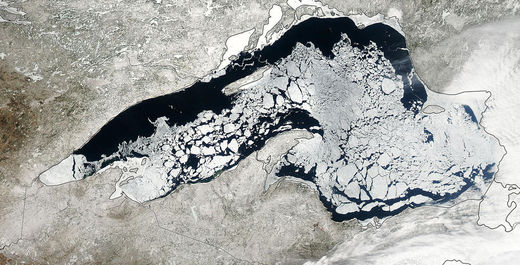 Duluth's corner of Lake Superior on Wednesday was a curio cabinet of strange times on the lake this spring.
Seven lakers bore through gloppy ice and passed under the Aerial Lift Bridge during the noon hour. It was a sign of how slow-going things have been on the lake because of lingering ice and, earlier this week, gale warnings. Strong wind blew in ice from the eastern part of the lake, and areas off shorelines 15 miles north and south of Duluth were cluttered with a soup of ice, tree trunks and other detritus.
"It's fun," said a hustling Beth Duncan at the Lake Superior Maritime Visitors Center, near the lift bridge in Canal Park. The U.S. Army Corps of Engineers park ranger was on the loudspeakers inside and out, calling out facts about each ship for the few dozen boat watchers braving a pelting rain and the handful inside the museum. The Canadian ship Thunder Bay had just passed through - the third ship in 15 minutes - and she was gathering information on four more ships lined up in the distance, painted with mist and fog.
She said it was unique that seven ships in succession slipped into Duluth. It was more like a Tall Ships festival than everyday shipping business.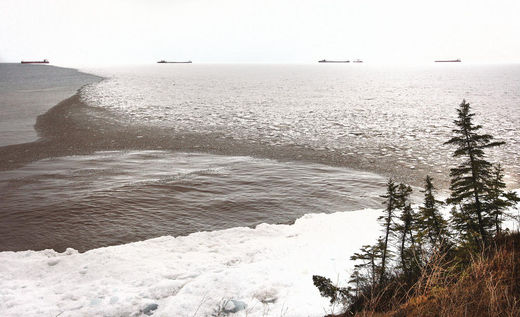 The ice cutter Mackinaw got things rolling early Wednesday morning, leading a ship out of the harbor after cutting ice on the way in for the shipjam that stretched up to Knife River. The Hon. James L. Oberstar was the first in port at 12:18 p.m.
Ice continues to be a problem on the lake, especially around the Duluth and Superior entries after the wind-whipped storm earlier this week shoved ice in.
Mark Dobson, a vessel traffic manager at the Soo Locks, said ice had loosened across the Great Lakes and ships were moving, only to be stalled by the gale warnings. On Tuesday, several upbound ships waited in Whitefish Bay, next to Isle Royale or other calm points.
"The ice is getting sparse, especially after the storm blew through," Dobson said. He said the wind was a setback for traffic "but might be a blessing" in clearing locked-in ice. "Every day is another improvement."
Ships are still being escorted with ice breakers on Superior, so the clump of those seen coming into Duluth on Wednesday will likely be repeated in coming days. Nine upbound ships were just north of Whitefish Bay on Wednesday afternoon, headed to ports west.
The pickup in traffic pleases Glen Nekvasil, vice president of the Lake Carriers' Association. Shipments on Superior, the home of five iron ore ports and vital coal links, were sparse in April.
"It's pretty obvious it's going to be significantly reduced," Nekvasil said of the expected monthly tonnage report he files.
He groans about a poster ship for the slow season dealing with braking ice: an ore carrier that left the North Shore March 23 and didn't make its delivery until April 23. Lakers usually can make four trips in 30 days under clear sailing, Nekvasil said.
"This is the worst," he said, recalling past benchmarks for ice and slow seasons in 1976 and 1994, a year when cutters broke ice until May 18. Not having access to the ports at Thunder Bay, Duluth, Superior and along the North Shore has a huge effect on the whole of the Great Lakes commerce. Steel mills have had to idle or conserve while waiting for taconite.
"As Lake Superior goes, Great Lakes shipping goes," Nekvasil said.
George Leshkevich is an expert on Great Lakes ice as a scientist for the National Oceanic and Atmospheric Administration in Michigan. He said he wouldn't be surprised if there was ice on Superior in June.
While satellite images show more ice broken up and in smaller floes, there's "a lot still on the lake," Leshkevich said.
He said ice on the lake this year compares to 1979 in terms of coverage, with about 67 percent iced over on the comparable date of April 23.
He's still running the numbers,
but 2014 looks like "there's going to be even more" lingering ice than in 1979. "This year is maybe a record-breaking year."
More than the mere curiosity of ice in June and despite its bite into the shipping industry, Leshkevich said there are some good results from a bitterly cold season on the lake. Ice coverage can prevent shoreline trees from budding too early and becoming frostbitten. The surface temperature of the water, once on a warming trend, hasn't risen in the past two years. Ice coverage helps protect whitefish spawns.
The scientist knows full well of the struggles ships have faced on Lake Superior. He was on board the Mackinaw in late March when it met 42 inches of ice in Whitefish Bay, the door to the Soo Locks. Ice damaged ships and cutters.
"It's a hard year," he said. "It's been brutal."