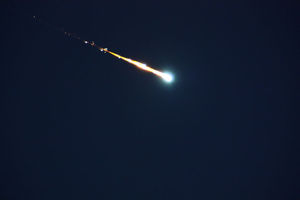 New Zealanders are reporting sightings of a "massive" meteor seen in the skies over the country last night.
Edward Ennis, of Christchurch, said he saw a "massive meteor burn up in the sky" from his home in Spreydon about 7.55pm.
"Never seen anything like it," he said. "Amazing."
Vice president of the Canterbury Astronomical Society Adrian Kelly said he was holding an open night at the organisation's observatory when a "sizable fragmented fireball" was seen.
He said the meteor was probably a couple of metres in diameter and had broken up in the earth's atmosphere causing the dramatic image seen across the country.
"It's not often you see them break up. You need to be in the right place at the right time."
He said May was a good time to see a meteor but you still had to be lucky to catch a glimpse of them let alone a photograph.
"They are incredibly fleeting things."
Sharon Boland said she also saw it from West Melton.
Another witness commented online that they had seen a "bright light with tail on it" about 8pm over Lower Hutt.
Others described it as "a large white shooting star, heading south-ish, with a firework-like tail" and a "bright flash in sky proceeded by [a] falling fireball, shattering into small pieces".
Tony Smith from Parklands in Christchurch told reporters he first thought it was a shooting star.
"It then turned into a fireball. I said to my partner, 'I just saw a meteor'. She thought I was crazy," he said.
Leigh Hindry reported seeing a "very bright" light from Waikanae shortly before 8pm.
A motorist driving up Hills Rd in Christchurch last night said it was "an amazing green, like Superman Kryptonite green".