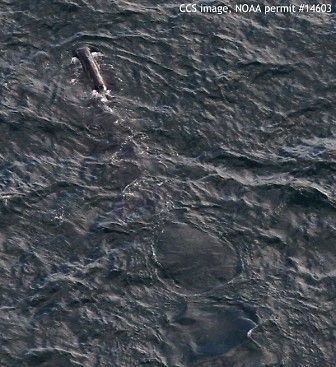 Experts call the sighting rare and remarkable
It is a remarkable sighting, according to experts from the Center for Coastal Studies (CCS) in Provincetown. Last Friday marks only the second time in recorded history that a bowhead whale has been seen so far south in the waters of the Atlantic. The whale was spotted swimming and feeding with right whales on Cape Cod Bay on April 11, according to a CCS release.
The first time a bowhead was spotted in our waters was two years ago, when one was observed by CCS researchers
off the Outer Beach in Orleans in August 2012.
"This is yet another remarkable sighting in what has been a remarkable several years in our studies of Cape Cod Bay, said Dr. Charles "Stormy" Mayo, Director of the Center for Coastal Studies Right Whale Research program.
"Two years ago we saw our first bowhead,
an animal that should be 1000 miles from Cape Cod,
then last year we saw the first calving of a right whale in Cape Cod waters, and now we have a bowhead again here, this time feeding with right whales.
These observations along with extraordinary number of rare right whales in Cape Cod Bay seem to be pointing to profound changes in the coastal habitat, to which the whales are responding,
" Mayo continued.
An aerial survey team from CCS spotted the bowhead last Friday feeding with right whales in the bay. It's a popular time for right whales to be on Cape Cod Bay where they are feasting on abundant zooplankton. A day after the bowhead was spotted, the state released
a warning to boaters asking them to slow down and be on the look out for right whales
in an effort to avoid collisions with the feeding beasts.
A relative of the right whale, bowheads have thicker blubber best suited for the arctic waters they typically inhabit. They can swim for 35 minutes under water--even under ice--and use their large skulls to break through the ice to create breathing holes, according to CCS.
The aerial survey will be out over Cape Cod Bay again today, CCS said.