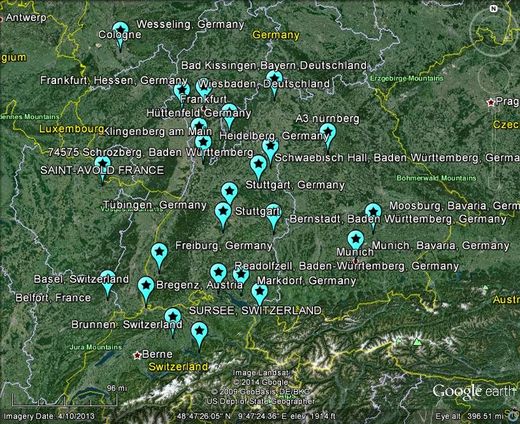 25 Reports! Long Duration! Perhaps Meteorites???
Initial Meteor Sighting Reports-
31MAR2014 John Stuttgart, Germany 2235 5sec N-S Green Very bright None Never seen anything like it
31MAR2014 Saimonas Germany , Hüttenfeld 22:34 pm 3-4 secs I was directing the W side. The object was falling of right to left. Very bright , a little bit blue colour around the falling object.
brighter than the moon
. Yes. At the end of the falling the light blurred away , and i could see a black object for a second nope
31MAR2014 Richard & Ann Spence Bernstadt, Baden Württemberg, Germany 22:33 CEST 10 seconds West-East Greenish, two flaming trails,
whooshing sound Bright as full moon
None Faded completely
31MAR2014 Betsy Belfort, France 22:32/UTC+01:00/PM Around 10 seconds I was facing east, it was falling from left to right (north to south east?) Colors: white. No sound, windows closed. Bright as moon. None that I saw. N/A
31MAR2014 Pablo Narvaez Basel, Switzerland 22:30:00 10 sec Left to right White light with gren tail Bigger thanVenus No N.a
--
My wife came home at about 23:10 CEDST from playing cards
with her "girls" and this is what she told me ... and she was very
excited: "I was on my way to our car when something suddenly lit up the
Eastern sky. It was dazzling bright, had a greenish color, apparent
diameter ca. 2 inches, color greenish, duration seveal seconds, length
of luminous train (apparently 50-60 cm). She and her "girls" heard no
sonic boom." Location: Mannheim - Rheinau (Rheinau is a place about 10 km east
of Mannheim). Best wishes, Bernd Thanks Bernd!
All 25 meteor sighting reports can be seen here
http://thelatestworldwidemeteorreports.blogspot.com/