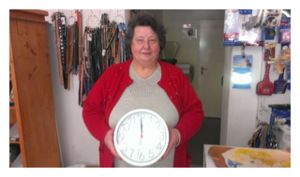 A Berlin pet shop owner is living an hour behind the rest of the country after refusing to put her clocks forward for summer time. She has encouraged her neighbours to join the protest and tellsThe
Local
why.
Renate Stahn, who grew up in the Prenzlauer Berg district of Berlin where her shop is located, told The
Local
she had had enough of the negative effects the time change had on her health.
"I have high blood pressure and I can't sleep - when you sleep badly you're less able to work," the 66-year-old said.
"Mothers have difficulties with their kids, old people have difficulties with the time change, young people too."
"Some people even have to take days off sick, or are not working at 100 percent efficiency," she added. "I will no longer take part in this circus."
Stahn first tried running her shop an hour behind summer time last year and found it so beneficial that this year she has expanded her sign (which notifies customers of her adjusted hours and urges them to join her time boycott) to four times the size.
She has installed it in an illuminated box above her door.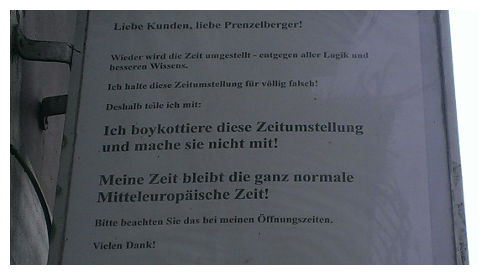 Her boycott has already grabbed the attention of Berlin newspapers the
Berliner Kurier
and the
Berliner
Zeitung
, who have named her "summertime-rebel" and a
Refusenik
.
"People call me a rebel because I am against turning the clocks forward - and that's the way it's going to stay," Stahn said.
Stahn has run her pet shop since October 2002, but it now focuses on accessories and food and no longer holds many animals, with only a few canaries left in stock.
The response to her peaceful resistance has been positive, Stahn said.
"A lot of people have congratulated me, they think it's fine," she said. "They only regret that more people don't oppose it [the time-change]."
Ultimately, Stahn said, she wanted summer time done away with altogether.
"I hope the politicians, who are elected by us, finally do the jobs they are paid for, answer to the will of the people and abolish the time-change."