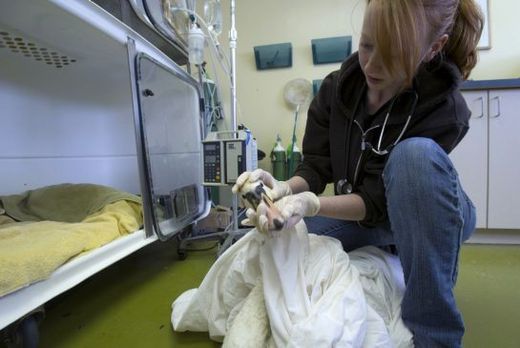 Toronto's ducks and geese are among the hardest-hit victims of this year's brutal winter weather.
Calls about dead birds - found stuck in the ice or floating lifeless in the water - shot up 66 per cent between Jan. 1 and Mar. 12 compared to the same period last year, according to Toronto Animal Services.
Meanwhile, the city's only wildlife rescue charity has been overwhelmed with dozens of fragile, injured and dying birds,
making this the worst winter it has seen in 21 years of operation.
"They're weak and they're starving," said Nathalie Karvonen, executive director of the Toronto Wildlife Centre. "Some of the birds are having traumatic injuries as well because they're in a weakened state."
The centre has rescued about
10 times as many water birds as it does during a normal winter
, more than 130 since December. Admissions of wildlife are up 50 per cent overall, said Karvonen.
Many water birds spend the winter on Georgian Bay, which has frozen solid for the first time in 20 years. The mass migration led to an intense food competition this year, as thousands of fish-eating birds compete for a few small pools of water.
The charitable wildlife centre has been running on overdrive, with volunteers and staff working daily overtime. The cost of specialized food, medical supplies and even orthopedic surgery is skyrocketing, and Karvonen gently urged Toronto residents to donate.
"A lot of the birds that have been coming in . . . are exclusively fish-eaters. It's not like you can get them a bowl of bird feed," she said. "Some days we've been spending over $400 on live fish alone in one day."
Across the province and in upstate New York, water birds are starving to death
.
Carcasses began piling up in the hundreds in early January in the Niagara River corridor, spanning from Lake Erie to Lake Ontario.
In Cobourg, Ont., one man's quest to save dying ducks and geese is taking him all the way to court.
Bill Thompson, a 73-year-old military retiree, began feeding the birds on the harbour near his home after he noticed in January they were starving. The waterfowl were lethargic and barely moving, he said.
"I had to feed them, or just let them die - and I can't do that," he said. "It was very severe. They were just lying there."
He began visiting the harbour twice a day to feed the birds corn.
But he's received two $105 tickets for violating Cobourg's bylaw against feeding wildlife, which he plans to fight in court.
"If the judge says, 'Sorry, you have to pay it,' then I'll pay it," Thompson said. "It's a lot more important to keep birds alive than a couple hundred dollars."
Defenders of the bylaws say that feeding birds is illegal because it often results in negative consequences for wildlife. Ducks and geese have survived for thousands of years without handouts, experts point out.
But Thompson said he's lived by the lake since 2007 and has never fed the birds until this year, because the winter has never been this severe. He plans to stop feeding them as soon as the ice melts.
"Because they've been fed, they're starting to act normally . . . they're very active now, whereas before they were very lethargic," he said. "It's like night and day."
The Toronto Wildlife Centre is urging the public to call 416-631-0662 or visit TorontoWildlifeCentre.com if they see an animal in danger.
Source: Torstar News Service