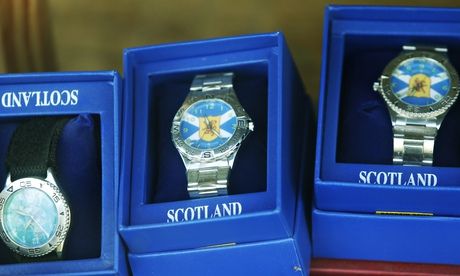 Margie Maxwell is no Scottish nationalist. But she is Glaswegian, and intensely loyal with it. It never occurred to her she would vote for independence. But then the threats were made, to shipyard jobs on the Clyde, to
Scotland
's right to keep the pound and to her country's economy.
"I fully want independence now. They've had their chance," she said.
There was the speech in February by
George Osborne
, the chancellor, vetoing any sterling pact between the UK and an independent Scotland. And Maxwell, 57, deeply resented warnings last winter that lucrative Royal Navy warship contracts for Glasgow's critically important shipyards would end if Scotland voted yes to independence.
Bristling at these "threatening tactics", Maxwell detects, too, an arrogance in Westminster's ranks: "I don't like the attitude of certain factions in the UK towards Scotland, that we live off England, when actually it's the other way about. We pay our fair share."
In the vast housing estate of Easterhouse, sitting high and exposed in the eastern suburbs of Glasgow, Maxwell is an influential figure. A lifelong Labour voter prominent in east Glasgow's voluntary sector and housing associations, she is a weathervane of a wider change: a hardening in public mood.
Across Scotland, town halls, community centres and pubs have hosted packed public meetings. Many who go are non-nationalist voters, people who usually back Labour, the Scottish Greens, the Liberal Democrats or no party at all. Some listen, arms crossed, not always convinced; many applaud.
Even hardened Scottish National party activists are surprised. They talk of a marked shift in public attitudes in recent months, and a political energy not seen in decades. In many neighbourhoods a switch has been flicked, from off to on. Independence, they argue, no longer belongs to nationalists.
Voters who once closed the door to Yes Scotland canvassers are now opening them, to talk more, to agree or even to sign up. Peter Murrell, the Scottish National party's chief executive, estimates that as many as 100,000 people have volunteered, donated money or helped out in some form - a number some four times as large as the SNP's membership.
Gerry McLaughlan, a veteran SNP organiser who remembers the unsuccessful 1979 devolution referendum, says he has seen a marked change in Stirling. Local meetings, organised by socialist groups, an artists' collective or pro-independence students, are packed out, with more than 100 people turning up at each.
"You talk about smelling the air. I've smelt the air since October last year. There's a change. People have gotten involved," he told one over-subscribed Yes Scotland campaign meeting earlier this month. "I have no shadow of a doubt there's going to be a yes vote on 18 September."
A party member since the 1970s, McLaughlan has set his SNP commitments aside to run the local Yes Scotland group. He told the meeting that campaigning for a yes vote was a revelation. "As somebody who's chapped far too many doors of strangers in his life, canvassing for yes is a delight. It's a world of a difference than canvassing for a political party," he said. "It's a very straightforward and warm canvass."
But the range of people reporting a movement in favour of the yes campaign goes beyond SNP activists. Ross Grier, a communities organiser with Yes Scotland and, at 19, already a rising star of the Scottish Green party, tells of a women's book club in his home patch of Bearsden, a prosperous, middle-class suburb of Glasgow.
"Six middle-aged women, every single one said that they were voting no six weeks ago; but every single one of them is now voting yes," Grier said. "If we're winning over the cultured middle-class women of Bearsden, with six months to go, it really is game on."
Labour voters in the former mining community of Prestonpans, near Edinburgh, no longer slam their doors to yes campaigners with some choice abuse, said DJ Johnston-Smith, a former publican at one of Edinburgh's best-known pubs, the Sheep Heid.
Now a Yes Scotland organiser in East Lothian, Johnston-Smith said: "I have definitely seen a massive shift. We've pretty much had a stall for every single weekend for the past two years and the difference is staggering."
Cameron Archibald, a 16-year-old at McLaughlan's event in Stirling, said the cause had suddenly become fashionable at his secondary school, Wallace high, among the once deeply sceptical 16 and 17-year-olds who are being allowed a vote for the first time in September.
"The yes badge in my school is now a stylish thing. People see me wearing it, they're like 'Cameron can I get a badge,'" he said. "If we continue this way, I know we will win on 18 September."
And consistent anecdotal evidence suggests that amongst young artists, musicians and performers in Scotland, yes voters are in a majority. Jenny Lindsay, a schoolteacher and poet who performs at the Latitude festival in Suffolk, is an active member of the pro-independence arts group National Collective. She canvassed all her friends and contacts in the poetry world last year.
"With the exception of one, they all came back with yes or undecided. Some of those who were undecided are now in National Collective," Lindsay said. "I think it's far easier to be passionate and articulate about wanting things to change, rather than wanting things to stay the same."
Some 2,000 artists, musicians, poets and designers, largely early in their careers or little-known, chiefly in their 20s and 30s, have joined the collective, which hosts cabaret-style campaign events and creates satirical videos, essays and critiques of no campaigners.
Back in Easterhouse, Maxwell is in a target demographic for the independence movement, which is targeting the tens of thousands of voters in housing schemes and urban neighbourhoods. A series of opinion polls have shown that up to 24% of Labour voters may vote yes on 18 September, even though Scottish Labour's leaders vigorously resist independence.
The same polls show support for independence is highest amongst voters in marginalised, working-class areas. In February, Ipsos Mori found that a majority of voters in the most deprived wards would vote yes, at 47%, with 41% voting no. By comparison, only 20% of those in the least deprived areas will vote yes.
Yes Scotland and SNP campaign messages about the bedroom tax, vague plans to reform welfare in Scotland, about Scotland failing to vote for Tory governments, about a new minimum wage in Scotland, and about Old Etonians in charge at Westminster busily privatising NHS services in England, are calibrated to appeal to that constituency.
A disparate movement unique in modern British politics has also sprung up: activists on the hard and unaligned left have gathered under the banner of the Radical Independence Campaign (RIC). The campaign recently targeted Easterhouse - attracting 80 activists to canvass there from across central Scotland - as well as the Raploch estate in Stirling and housing schemes in Edinburgh, Aberdeen and Dundee. Soon it will be turning its attention to Drumchapel in Glasgow.
The RIC slogan on the doorsteps is simple: "Britain is for the rich; Scotland can be ours." Tony Kenny, an RIC organiser who resigned from the SNP in protest at the vote to join Nato, says the response on Easterhouse doorsteps has been "fantastic".
"When I used to hold yes events at local gala days I would have people saying 'nothing to do with me, I never get involved in politics'," he said. "It's the first time anybody has asked them their opinion on politics."
Centre-left and green intellectuals are collaborating on alternative economic models under the Common Weal badge while Yes Scotland, building on techniques first pioneered by the US Democrat-supporting Moveon.org campaign in 2005, has spawned more than 25 separate interest groups in favour of independence. Those range from Farmers for Yes, crofters too, Poles for Yes, Cabbies for Yes, to - launched on Valentine's day - Florists for Yes.
Yes Scotland has its allied campaigns too: Labour for Independence, which now boasts several influential labour movement figures and former council leaders amongst its supporters; Women for Independence - a small group but one of the original coalitions; and Business for Scotland, which has some 1,700 business people among its ranks.
Finally, a new Yes Scotland campaign will be launched in late March: Generation Yes, known as Gen Yes, which will aim to capture that other independence-leaning demographic, the young voter. Its small group of founders are targeting some 800,000 voters under 30. Every Gen Yes member will be set five tasks, including a target to convert nine of their friends to the cause. Photogenic youth "ambassadors" will be sent out to win converts, spread the word.
Generation Yes has been modelled on an Irish campaign of the same name set up to campaign, successfully, for a yes vote in Ireland's 2009 Lisbon treaty referendum.
Saffron Dickson is, at 16, already a veteran campaigner. She went on her first demo aged six, against the Iraq war, with her mum. She is one of the small group of Gen Yes founder members.
Still at school, Dickson is unfazed by the campaign facing her: "I would give up every weekend for the next six months. The next six months determine the next 80 years of my life. I'm fine with that."
Failing to act, she believes, will help the no vote win. "I could spend the next 80 years of my life thinking what life could've been like, what an independent Scotland would be like and how fabulous it could have been," she said.
But the polls that show strongest support in urban areas also present the independence movement with a challenging paradox.
For, despite the campaigners' optimism and energy, support for a yes vote has shifted only slightly upwards, by a couple of percentage points since the SNP leader, Alex Salmond, published the Scottish government's white paper-cum-manifesto on independence in November. Every single poll still shows a majority for no, even though some show the gap shrinking.
Several polls immediately after Osborne's currency speech recorded a rise in yes votes, and a narrowing between yes and no: a Survation poll for the Mail on Sunday in February showed a sudden contraction in the gap to nine points. Others, however, showed the opposite trend. Within days, Ipsos Mori put the gap at 25%, with only 32% voting yes, 57% no.
This is crucial. The pollsters predict upwards of 75% of Scotland's 4.2 million voters will take part in the referendum. In UK general elections, Labour outpolls every party in Scotland. It won just over a million out of the country's 4.2m potential votes in the 2010 general election. The SNP has at most polled 900,000 first past the post votes, in its landslide Holyrood win in 2011, and the polls suggest up to 20% of SNP voters will not back independence.
That data identifies the key point for Yes Scotland and the wider independence movement: to win, their supporters and activists need to convert hundreds of thousands of undecided voters to get past the 1.5m mark needed to win - and those are people who do not vote SNP. A majority of Scots favour more devolution, not independence.
Despite the numbers, yes campaigners insist the polls are failing to detect the groundswell in support their activists are reporting and that mass meetings suggest. But given the polling data, it remains very difficult to authenticate this apparent trend: Yes Scotland has not released updated figures for signatories on its Yes Declaration since April 2013, when the total stood at 372,103. In May 2012, Salmond had set a target of a million signatures on the declaration.
After the Scottish parliament byelection for Cowdenbeath - a seat deep in Labour's Fife heartlands, which Labour comfortably held - the SNP said that its canvassing of 11,700 voters found 41% planning to vote yes in September against 36% voting no.
Those figures are contested by Scottish Labour. One senior source insists that Labour canvassing of tens of thousands of voters in the last three Holyrood byelections - in Cowdenbeath, Dunfermline and Aberdeen Donside - put the yes vote in the mid-teens.
Labour says it consistently measured the no vote in the mid-60s in all three polls. Two of the seats, Cowdenbeath and Dunfermline, have the sort of largely working-class vote that has come under the close attention of the SNP and Yes Scotland.
But the pro-UK Better Together campaign, the umbrella group that includes Labour, the Lib Dems and the Tories, admits that it has been comprehensively outflanked by Yes Scotland and the wider independence movement on the ground. It has started hiring community organisers - some 18 months later than Yes Scotland - but admits it is highly unlikely to catch up.
Better Together says it is focusing its energies on Scotland's undecided voters, using targeted telephone canvassing and letter-writing using the names of floating voters on its large database. It believes that could be far more cost effective and efficient.
So are the independence campaigns really attracting large numbers of new yes voters? Or mostly reaching and empowering existing supporters, as opinion on both sides of the debate hardens? Dennis Canavan, the 71-year-old veteran former Labour MP and now retired independent MSP who chairs Yes Scotland's advisory board, said he had not seen such a mood, energy and scale of audiences since the 1970s.
Canavan, who has been to mass meetings in Shetland, the Western Isles, Fife, Glasgow, Edinburgh and Ayrshire during the campaign, said: "We're getting huge public meetings. I find them very exciting; it's giving me a new lease of life. I can no longer legitimately describe myself as retired.
"Things are moving our way; we're closing the gap, and I think once we get to a critical point we're going to get a momentum gathering on our side. Every shift of opinion we've detected has been from no to undecided, from undecided to yes. If we can just get that going up to a critical mass."