Spring officially starts on Thursday, but Mother Nature will bring another blast of winter weather from Missouri to Delaware before the seasons change.
A winter full of nasty snow and ice will not end quietly as a gathering storm slides east and collides with a fresh cold air mass on Sunday into Monday.
Across the South, the focus
will be on severe weather
. Farther north, a wintry mess will quickly unfold into Monday.
As yet another push of cold air drives southward across the Midwest and Great Lakes, moisture will surge northward. A swath of snow and sleet is expected to develop from Missouri eastward along the Ohio River on Sunday.
While the precipitation may start as a brief period of rain, the arrival of cold air should allow the majority of the precipitation to fall as snow or sleet in cities such as Springfield and St. Louis, Mo., Louisville, Ky., and Cincinnati, Ohio.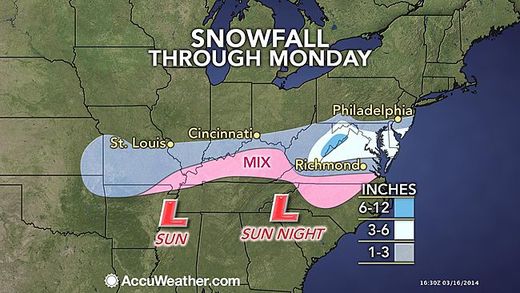 East of the Appalachians, the most treacherous conditions are expected on Sunday night through the morning commute on Monday as temperatures fall below freezing.
Snow and ice should extend along the Ohio River and then across the Mason-Dixon Line by Monday morning and even reach places as far south as the North Carolina/Virginia border.
Most places in this band can expect enough snow to shovel with some spots in the mountains of West Virginia and Virginia picking up around a half foot of fresh snow.
Since much of the snow is forecast to fall at night in locations such as Baltimore, Md., Washington, D.C., and Charleston, W.Va., roads can quickly become slick and snow covered. Conditions for Monday morning's commute will be poor.
Fortunately, a combination of a higher sun angle in March and temperatures climbing above freezing on Monday afternoon will allow for improving conditions.
Farther north, snow may graze New York City for the St. Patrick's Day parade on Monday morning. The cold, dry air centered over the Northeast is expected to keep the heaviest snow south of the region.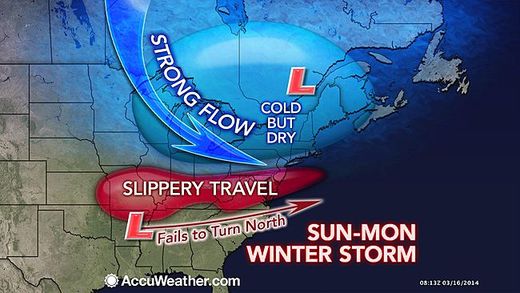 Enough cold air is expected to seep far enough south to cause icy conditions by early Monday morning across northern North Carolina. Slick spots are expected for the morning rush in both Greensboro and Raleigh as temperatures hover near the freezing mark.
A second storm, following on the heels of the first, could bring another round of freezing rain to parts of North Carolina Monday night into Tuesday. As precipitation slides northward, icy spots could hamper the morning commute through Virginia and Washington, D.C.
In the wake of wintry weather early Monday, another period of ice may move into the same area Monday night and Tuesday morning.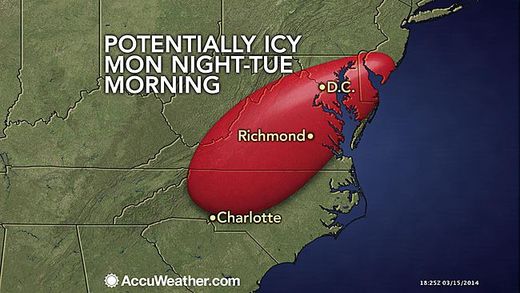 This latest storm comes just days after a taste of spring arrived in the mid-Atlantic and Ohio River Valley. Temperatures reached into the 70s from North Carolina to Maryland last week.
"It's the typical roller-coaster ride of March," AccuWeather.com Senior Meteorologist Dave Dombek said. "March is notorious for huge temperature swings."
In the wake of the winter weather, milder weather will return by Wednesday.