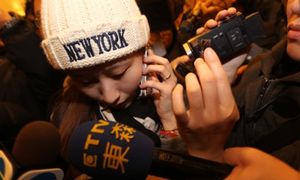 Teams from nine countries working non-stop, officials say, as hunt goes on for plane missing with 239 people on board
Search crews involving nine countries are working "every hour, every minute, every second" across a huge swathe of the South China Sea but have yet to find any evidence of the missing Malaysia Airlines flight, the country's civil aviation chief said on Monday.
Almost 60 hours after flight MH370 vanished from radar screens in the early hours of Saturday officials remain "puzzled" by its sudden disappearance and are considering all possible angles, Azharuddin Abdul Rahman said.
"Unfortunately, we have not found anything that appears to be an object from the aircraft, let alone the aircraft," he said.
The Beijing-bound flight was carrying 227 passengers and 12 crew when it went missing around 40 minutes after its 12.41am take-off from Kuala Lumpur, over the seas between Malaysia and Vietnam. The Boeing-777 was cruising at 35,000 feet when it disappeared in apparently good weather, gave no indication of any problems and did not issue a distress call.
Rahman added: "There are many theories that have been said in the media; many experts around the world have contributed their expertise and knowledge about what could happen, what happened....We are puzzled as well.
"To confirm what happened on that particular day on this ill-fated aircraft...we need concrete evidence, parts of the aircraft for us to analyse, for us to do forensic study."
He said that the government had not discounted speculation about a hijack, but was looking at every possible explanation, noting that it took two years to determine the cause of the 2009 Air France crash.
He confirmed that five passengers had checked in for the flight but not boarded, adding that their baggage was removed from the aircraft as necessary in such cases.
Concerns that terrorist might be responsible have been fuelled by the fact two passengers were travelling on stolen European passports - although experts have said that fraudulent documents are reasonably common on regional flights for a variety of reasons.
The men who used them were of Asian appearance, Malaysia's home minister said late on Sunday.
Ahmad Zahid Hamidi told state news agency Bernama: "I am still perturbed. Can't these immigration officials think? Italian and Austrian [passports] but with Asian faces."
The Malaysian prime minister has said the country will review its security procedures.
The passports were stolen from Luigi Maraldi and Christian Kozel in the last two years, and were listed as stolen on Interpol's database. The international police agency said the documents had not been checked with its system and that it had long urged all countries to check passports systematically.
The suggestion that the plane may have turned back just before disappearing from radar screens - mooted by officials yesterday - remains unconfirmed, Rahman added.
Nine countries are now taking part in the search, which Rahman said covered the area within a 50 nautical mile radius of the aircraft's last known position and the northern Straits of Malacca in case the plane had turned back.
"We are every hour, every minute, every second looking at every inch of the sea," he said.
Forty ships are working round the clock, while 34 aircraft are working during daylight hours. Potential sightings of aircraft debris by Vietnamese searchers have not been verified, Rahman said.
A potential sighting of part of a door had not been confirmed and an item thought to be part of an aircraft tail turned out to be several logs tied together, he said.
Authorities have taken oil samples from a slick in the area and say they should know this afternoon whether it is connected to the aircraft or came from a ship.
Malaysia Airlines said in a statement it posted today that its primary focus was caring for the families of passengers, some of whom it has already flown to Kuala Lumpur. It has also sent counsellors to Beijing as two-thirds of the travellers were Chinese.
"We appreciate the help we are receiving from all parties and agencies during this critical and difficult time...Malaysia Airlines is similarly anxious and we appreciate the patience, support and prayers from everyone," it said.
But many of the Chinese passengers' relatives have complained that the airline has so far given them little information or support and have chosen to stay in Beijing.
An editorial in the state-run Global Times newspaper attacked the airline and authorities on Monday, warning: "The Malaysian side cannot shirk its responsibilities. The initial response from Malaysia was not swift enough."
It added: "There are loopholes in the work of Malaysia Airlines and security authorities. If it is due to a deadly mechanical breakdown or pilot error, then Malaysia Airlines should take the blame. If this is a terrorist attack, then the security check at the Kuala Lumpur airport and on the flight is questionable."