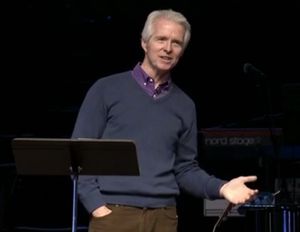 A California megachurch has voted to officially leave the Presbyterian Church (U.S.A.), a Christian denomination that is the largest in the nation.
Menlo Park Presbyterian Church in Menlo Park, Calif., one of the Presbyterian Church (U.S.A.)'s largest congregations, made the choice despite facing a $8.89 million cost for the church's property and membership fees,
Religion News Service reported
.
With 4,000 members, including former Secretary of State Condoleezza Rice, Menlo Park's decision is a major development in the lifecycle of a denomination that continues to experience ideological infighting over its more liberal stances on controversial issues.
In sum, 2,024 ballots were cast in support of separation, with only 158 individuals in opposition - an overwhelming 93 percent of the votes were in favor of Menlo Park moving on to join
ECO: A Covenant Order of Evangelical Presbyterians
.
ECO is a relatively new denomination that was founded in January 2012 amid ongoing theological debate among Presbyterian Church (U.S.A.) church leaders. According to Religion News Service, the Christian body has attracted 115 Presbyterian churches since its inception.
"This is a major milestone, and not an ending but a beginning," Pastor John Ortberg
wrote
in a letter to parishioners on March 2. "There's a lot yet to come of what Dallas Willard called the unique life of spiritual adventure in living with God daily - entering fully into the good news that Jesus has brought, for ourselves, and for us as a church."
In a document published by Menlo Park last year, leaders described their
reasons for seeking a split with
Presbyterian Church (U.S.A.), noting that the church's "evangelical identity around who Jesus is and our understanding of the authority of scripture are increasingly out of alignment" with the denomination as a whole.
Specifically, the church expressed concern that many Presbyterian Church (U.S.A.) leaders do not believe in the deity of Jesus, nor do they embrace salvation through Christ. These are central tenets of most mainstream Christian churches, leading to a difficult ideological splintering.
The document cited a 2011 survey of pastors in the denomination who were asked for their level of agreement with the following statement: "Only followers of Jesus Christ can be saved."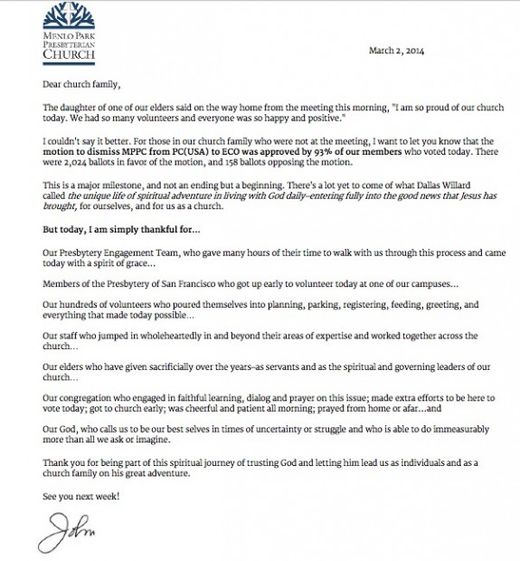 While 41 percent said they agreed or strong agreed with the statement, 45 percent said they disagreed or strongly disagreed - something Menlo Park leaders lamented.
The church also cited differences in mission, including the move by some churches in the Presbyterian Church (U.S.A.) that have
advocated pulling investments
from companies that do business with Israel - something that the church views as a distraction from its mission.