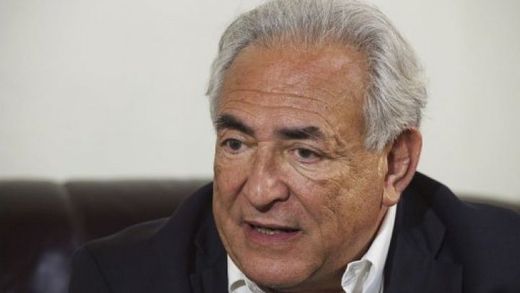 Disgraced former IMF director Dominique Strauss-Kahn is the most qualified to replace France's unpopular president, François Hollande, according to a shock survey French newspaper
Le Parisien
chose not to publish.
Asked which French politician they trusted to run the economy, 56% of those surveyed named the 64-year-old former head of the International Monetary Fund, whose
political career
has been ruined by a string of sex scandals and criminal allegations.
Alain Juppé, a former foreign minister, came second with 53%, while former president Nicolas
Sarkozy
pooled 49%.
The startling result was revealed by France Info radio, which said the poll's commissioner
Le Parisien
had chosen not to publish it due to "editorial" reasons.
Le Parisien
reportedly told France Info it had pulled the survey because it felt it should have included the question: "Are you for or against
Strauss-Kahn
's return to politics?"
French commentators said the poll was embarrassing to both Hollande's ruling Socialists and the conservative opposition.
France Info said it highlighted "a desire for competence at the highest levels", regardless of Strauss-Kahn's private life.
'Le Perv'
A former finance minister and respected economist, Strauss-Kahn saw his political fortunes plummet in 2011 following his arrest in New York on suspicion of sexually assaulting a hotel chambermaid.
At the time, "DSK" - as he is known in France - was widely tipped to run in the 2012 presidential election and defeat the incumbent, Nicolas Sarkozy.
As the scandal made headlines around the world, Strauss-Kahn was forced to resign from his position at the IMF and relinquish his presidential ambitions.
He settled a civil lawsuit in the US, but was later accused of sexually assaulting a French journalist during a 2002 interview and then implicated in a prostitution ring in northern France.
The man US tabloids branded "Le Perv" faces further legal battles in his home country, where he is due to appear in court later this year on "
aggravated pimping
" charges.