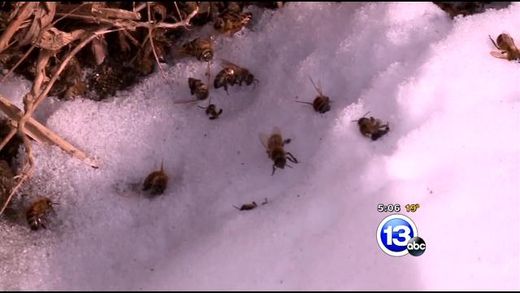 The cold weather is responsible for more problems than just potholes, it's causing massive losses for beekeepers. 13abc's Lissa Guyton spent the day in Hancock County at the Keller Bison and Bee Farm to learn more about the serious problem that could affect us all.
The farm normally has about 1,800 hives at dozens of different sites around the Arcadia area but the owner thinks that more than half of them have been lost this winter. Lyle Keller has been a beekeeper for more than three decades. He says this is setting up to be one of his toughest years, "When you start losing 50-60% of your total number it is not easy to recover from that quickly." Bees provide more than honey,
they also pollinate fruit and vegetable crops.
We were with Keller on Tuesday as he checked on some of his hives, "The bees need to get out and fly every 4-6 weeks to cleanse themselves and they haven't been able to do the cleansing flights this winter. It's rough on them. They are under heavy snow and in the extreme cold."
In addition to the extreme cold, Keller says pesticides and the lack of quality food sources are two main reasons for the population decrease, "About 25 years ago losing 10% of your hives during the winter was a big deal, this year I'll be happy if I only lose 50%."Keller plans to rebuild hundreds of his hives this spring," I will always have bees. I truly enjoy them. I may just have to scale down a bit because it takes a lot of work and I am not getting any younger."
Honey prices have gone up dramatically in the last few years. Keller expects the increase to continue this year. His bees produce some honey but their main job is the pollination of local fruit and vegetable crops. He takes them to farms around the region to do their work. Each hive costs more than $100 to maintain throughout the year.