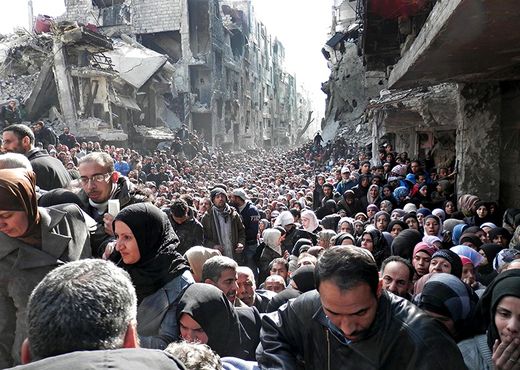 Huge crowd of Palestinians is photographed waiting for aid in Yarmouk, which has been under blockade for month
It is a vision of unimaginable desolation: a crowd of men, women and children stretching as far as the eye can see into the war-devastated landscape of Yarmouk refugee camp in Damascus.
A photograph released on Wednesday by the UN agency for Palestinian refugees, UNRWA, shows the scene when thousands of desperate Palestinians trapped inside the camp on the edge of the Syrian capital emerged to besiege aid workers attempting to distribute food parcels.
More than 18,000 people are existing under blockade inside Yarmouk, enduring acute shortages of food, medicines and other essentials. Much of the camp has been destroyed by shelling, and attempts to deliver aid to those inside have been hampered by continued fighting in Syria's three-year-old civil war.
United Nations workers have delivered about 7,000 food parcels over recent weeks, following negotiations between the Syrian government, rebel forces and Palestinian factions within the camp. The most recent delivery, of 450 parcels, was on Wednesday. The UN acknowledges that the level of aid is a "drop in the ocean".
Yarmouk has been cut off since last July. Many residents are now weak and severely malnourished, as well as being exposed to the risk of disease, or death and injury from fighting.
Filippo Grandi, the head of UNRWA, described the camp as a ghost town after visiting this week. "The devastation is unbelievable. There is not one single building that I have seen that is not an empty shell by now. They're all blackened by smoke," he told reporters.
He said
he was even more shocked by the camp's residents, who flooded towards aid distribution points. "It's like the appearance of ghosts. These are people who have not been out of there, that have been trapped in there not only without food, medicines, clean water - all the basics - but also probably completely subjected to fear because there was fierce fighting ... They can hardly speak. I tried to speak to many of them, and they all tell the same stories of complete deprivation
."
The distribution point is a "no-man's land", overlooked by sniper positions, between a Syrian government-controlled checkpoint and the camp's interior. "What about those who cannot come [to the distribution point]?" said Grandi. "I'm pretty sure there are many people who have never received assistance in the last month because they are too weak, or maybe elderly, or unaccompanied children."
As well as about 18,000 registered Palestinian refugees, there is an unknown number of other residents trapped inside Yarmouk. UNRWA's food parcels - which include tinned meat, rice and lentils - can feed a family of up to eight people for 10 days.
The agency is warning that the degradation of conditions inside the camp could lead to the spread of disease. There have been reports of mothers dying in childbirth, and families surviving on animal feed, according to a spokesman. The UN has sent in 10,000 doses of polio vaccine in the past month.
The UN security council adopted a resolution last week calling on all parties in Syria to take steps to facilitate the efforts of the UN and other humanitarian agencies to provide relief to civilians, "including by promptly facilitating safe and unhindered humanitarian access to populations in need of assistance in all areas under their control."
However, said Grandi, the situation on the ground was "very messy, very localised, a lot of local dynamics at play". Each distribution required "very complex negotiations with a lot of different groups".
Yarmouk camp, about five miles from the centre of Damascus, was home to more than 100,000 registered Palestinian refugees before the war. Many have fled to other areas of Syria, or abroad. Some have made their way to Gaza.
According to figures released by the Syrian Observatory for Human Rights on Wednesday, about 3,300 people have been killed in fighting in Syria since the start of this year. It said that 70 opposition fighters were killed in a government attack on a rebel-held area south of Damascus at dawn on Wednesday, with dozens more reported missing. The state news agency Sana put the number killed at 175.
Syria's civil conflict has claimed more than 100,000 lives since 2011 and has forced about 6 million people from their homes.
UNRWA said 12 of its workers had been killed in Syria since the war began almost three years ago, and another 20 had gone missing.