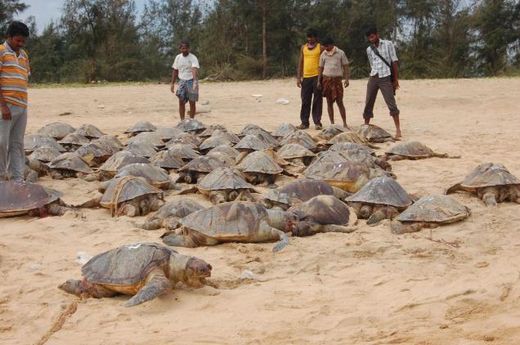 More than 800 Olive Ridley turtles, which came to lay eggs on the beaches of Nellore in Andhra Pradesh, have died, it was reported on Tuesday.
N.V. Sivarama Prasad, District Forest Officer, Nellore, said such large-scale deaths of Olive Ridley turtles had not been reported from the Andhra Pradesh coast in the recent past. The deaths were caused mainly by the use of trawl nets by fishermen. Local fishermen used only gill nets, which did not pose a threat to the turtles.
The area from where the deaths were reported is rich in biodiversity, which attracts large number of Olive Ridley turtles to lay eggs, he said. The forest department had created awareness among fishermen through the State Institute of Fisheries, Kakinada.
Fishermen had been advised to use the turtle-excluding device to reduce the death of Olive Ridleys.
Supraja Dharini of TREE Foundation, a Chennai-based voluntary organisation involved in sea turtle conservation, said their volunteers in Andhra Pradesh on Saturday last saw the mass death of Olive Ridley in Errana Dibba, Indukurpeta Mandalam, south of Penna river estuary and Vidavaluru Mandalam in the north of the estuary. She also charged that the deaths were caused by the use of a trawl net by fishermen from Tamil Nadu.
Mr. Prasad said the carcasses were buried in five-foot deep pits.