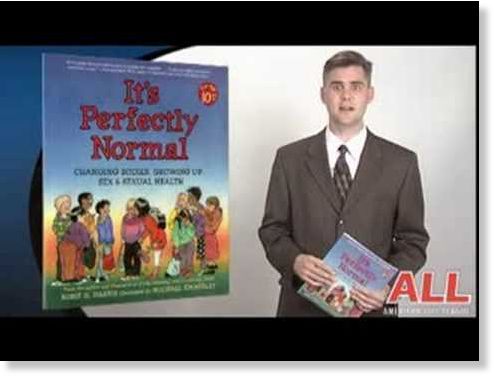 US schools are teaching 8-year-olds how to masturbate, and parents are outraged. The controversy surrounds the textbook titled "
It's Perfectly Normal
," which contains graphic illustrations of naked people of all ages. Some drawings depict children and adults masturbating and having intercourse. Do-it-yourself instructions are included.
US Common Core standards now require sexuality education from kindergarten through grade 12. To qualify for federal grants from the US Department of Education, public schools must adopt Common Core standards. According to the independent
Heartland Institute
, the Affordable Care Act has budgeted $75 million for sexuality education. Much of that has been granted to Planned Parenthood. With these funds, Planned Parenthood has hired sexuality teachers for public schools.
This academic year, Common Core has endorsed "
It's Perfectly Normal
" for fourth-grade public schools. Parents and teachers in Tennessee have opposed it. Reporter Victoria Jackson discussed the Tennessee controversy on
clashdaily.com
.
Frankly, I thought the first story was a right-wing joke. Then, I discovered that earlier editions have graced library shelves for 10 years. "
It's Perfectly Normal
" is considered a health book for children. Planned Parenthood endorses it for ages 10 and up. Its author and other contributors are affiliated with Planned Parenthood.
This month, the controversy has spread across the US. Read here about what parents and educators in
Alabama
,
Illinois
,
Colorado
and
South Dakota
have to say. Readers can find hundreds more links about Common Core sexuality education.
The first public controversy began in 2007 in Texas, when Planned Parenthood distributed the book to young teens at its annual
sex party
. News of the book hit the media. The Catholic Church condemned it as an assault on children.
Catholic Online
reported that trailers for the book were removed from children's Internet networks. Other sites restricted the video to ages 18 and older. In Washington, the book promotion was deleted from a public agency fund-raiser because it was considered "sexually explicit" and "obscene."
In 2008, the American Life League exposed the contents of the book. In the
video
, the League described the book's content as violating the pornography laws of US states. It could also be considered "in some cases, child pornography." A
second video
produced by the league in 2012 revealed the updated illustrations in uncensored detail.
On the other hand, here's how
Scholastic Books
describes the latest edition of "
It's Perfectly Normal
":
Alternately playful and realistic, Emberley's . . . art reinforces Harris's message that bodies come in all sizes, shapes, and colors -- and that each variation is 'perfectly normal." -- PUBLISHERS WEEKLY (starred review) ... IT'S PERFECTLY NORMAL marks its 10th anniversary with a thoroughly updated edition that includes the latest information on such topics as birth control, hepatitis, HIV and adoption, among others. This definitive new edition also reflects the recent input of parents, teachers, librarians, clergy, scientists, health professionals, and young readers themselves.
Unfortunately, "among others" includes sexual practices that may defy the religious beliefs of many children's parents. The book also instructs children to disregard what their parents teach them. Instead, performing the illustrated sex acts is supposed to be perfectly normal. That means an 8-year-old having anal sex is normal? An 8-year-old having sex with an adult is normal? Teaching a child how to perform any sex act at home is normal?
Why are sexually explicit books used in fourth-grade classrooms? Common Core is supposed to set standards in math, science and language arts. Is the opposition a bunch of right-wing hype, or truthful?
Let's get more facts before we judge. With the help of a
South Dakota
reporter, I located the
National Sexuality Education Standards
, Core Content and Skills, K - 12. The curriculum looks simple and direct on the surface, but it's just a summary.
How the curriculum is applied, who teaches it, and the materials are not well-defined. Many parents demand to know exactly what the objectives mean. For example, "Guiding Principles" on Page 9 say:
5. Students need opportunities to engage in cooperative and active learning strategies, and sufficient time must be allocated for students to practice skills relating to sexuality education.
8. Students need multiple opportunities and a variety of assessment strategies to determine their achievement of the sexuality education standards and performance indicators.
Watchdog reporter Mary C. Tillotson also
wrote
:
...some information is inappropriate to give earlier or ever in schools, said Abby Johnson, a former Planned Parenthood clinic director. "We saw in a couple different states last year that part of Planned Parenthood's curriculum is to demonstrate different sexual positions with stuffed animals to children in kindergarten," she said. At least one program linked on the federation's website suggests children ages 5 to 8 learn that "vaginal intercourse - when a penis is placed inside a vagina - is the most common way for a sperm and egg to join.
Recent developments in Common Core sexuality standards give Allvoices readers much to consider. Unfortunately, many parents don't understand the curriculum. Some parents have just seen it here.
This month, US communities are discussing Common Core. Some groups suggest the curriculum violates their religious freedoms. They argue that sex education should be part of health science. Instead, science has been replaced by "sexuality" education that usurps the rights of parents to teach their children moral values.
In my opinion, the question is not whether children should learn about sex. All children will learn eventually. That should begin with their parents or guardians. The deeper issue is whether "sexuality" education imposes the philosophies of a select few educational decision-makers into the minds of young children, and attempts to override the values of American families.