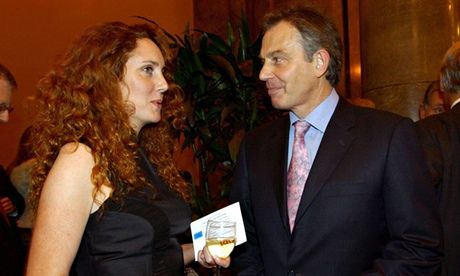 Tony Blair secretly advised Rebekah Brooks to launch a "Hutton-style" inquiry into the
News of the World
six days before her arrest as a suspect in the phone-hacking scandal, it has been revealed in evidence disclosed at the Old Bailey.
According to an email written by Brooks, following an hour-long phone call in July 2011, the former prime minister had also offered to act as an "unofficial adviser" to her, Rupert and James Murdoch on a "between us" basis.
The note from Brooks - sent to James Murdoch - was read out in the phone-hacking trial. In it, she said that Blair had suggested that News International set up an inquiry which would "publish a Hutton-style report" that would "clear you and accept short comings [sic]".
She also wrote that Blair told her the crisis would pass and she should "tough up" and not make any rash decisions. The former prime minister also told News International's then chief executive to "keep strong" and appeared to suggest she should take sleeping pills to keep a clear head.
The email was sent at 4.20pm on Monday 11 July, the day after the
News of the World
closed and seven days after the
Guardian
disclosed that the tabloid had hacked the voicemail messages of the missing Surrey schoolgirl Milly Dowler, triggering a chain reaction of further revelations and political outcry.
A day earlier, on Sunday 10 July, Rupert Murdoch had flown into London to deal with the crisis, which coincided with the final stage of his ultimately unsuccessful effort to buy BSkyB.
On the same days as Blair was privately giving Brooks advice on how to endure the public firestorm, the Labour leader Ed Miliband was calling for a judge-led inquiry into News International as part of an unprecedented assault on Murdoch in the House of Commons.
But according to Brooks's note, Blair was suggesting that News International set up an "independent" inquiry using Ken Macdonald, the former director of public prosecutions and a lawyer whom Rupert Murdoch had turned to for advice during the phone-hacking scandal.
She said Blair had told her:
"1. Form an independent unit that has an outside junior counsel, Ken Macdonald, a great and good type, a serious forensic criminal barrister, internal counsel, proper fact checkers etc in it. Get them to investigate me and others and publish a Hutton style report.
"2. Publish part one of the report at same time as the police closes its inquiry and clear you and accept short comings and new solutions and process and part two when any trials are over."
Blair's suggestion, as recorded by Brooks, that the inquiry be "Hutton-style" was a reference to Lord Hutton's 2003 inquiry into the suicide of the UN weapons inspector David Kelly. The Hutton report exonerated the government of blame for his death.
The closure of the
News of the World
after 168 years surprised politicians of all parties, many of whom felt it was Murdoch's last-ditch attempt to salvage his takeover bid for BSkyB. On the day that Brooks sent the email both Miliband and David Cameron were holding press conferences on the scandal, with the prime minister calling on News International to concentrate on "clearing the mess up".
Blair had long enjoyed the political support of Rupert Murdoch's News Corporation, and the
Sun
, edited by Brooks between 2003 and 2009, supported him at three general elections. In 2009, after Blair had left office, the tabloid switched to the Conservatives - but the former prime minister enjoyed a close friendship with the Murdochs and Brooks.
Hours after the evidence emerged in court, Blair insisted that his advice had not been based on any direct knowledge of what had happened at News International, or who was culpable.
His office did little to challenge the content of Brooks's email but maintained that the reference to a "Hutton-style" inquiry was a reference to the company setting up a "transparent and independent" process.
"This was Mr Blair simply giving informal advice over the phone," his office said. "He made it absolutely clear to Ms Brooks that, though he knew nothing personally about the facts of the case, in a situation as serious as this it was essential to have a fully transparent and independent process to get to the bottom of what had happened." Blair's office said he had argued that an independent inquiry should be "led by credible people".
Although Macdonald has advised Murdoch in the past he is also seen as fiercely independent. He has been a staunch critic of Blair, especially over his conduct of the Iraq war, writing in the
Times
in 2009 that Blair's fundamental flaw was his "sycophancy to power".
Brooks's email to James Murdoch followed a note written less than an hour earlier, in which she pointed out that the final issue of the News of the World was close to selling 4m copies. That initial note prompted a short reply from Murdoch, simplysaying: "What are you doing on email?"
Half an hour before Brooks sent her email, the under-pressure Rupert Murdoch took his first step in abandoning the bid for Sky by announcing that he was withdrawing certain undertakings, triggering a referral to the competition authorities. Days later he withdrew the takeover bid entirely.
The Old Bailey also heard that Brooks had discussed a survival plan that would see her "ring-fenced" from the phone-hacking scandal. She had proposed a detailed "plan B" in a separate email to James Murdoch datedthree days earlier - 8 July.
The jury learned on Wednesday that she went on to propose an announcement to the public that News International's previous investigations into phone-hacking allegations fell short.
She suggested that the statement should say: "Our internal investigations were woeful and limited and we failed to hold the right people accountable."
Under the plan, Will Lewis would be promoted to News International deputy chief executive and would go on to the BBC's
Andrew Marr
show to face questions about the growing scandal. The company would also review all its previous investigations.
Rebekah Brooks denies five charges in the phone-hacking trial. She is due to start her defence on Thursday morning.