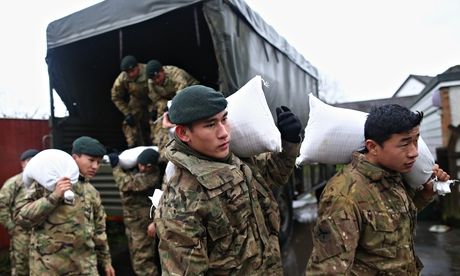 Violent storms will batter cliffs and promenades along the south coast this weekend, with tidal surges and gale-force winds set to cause more flooding for days to come. Forecasters warned that there would be no let-up in the severe weather as defence chiefs committed 5,000 military personnel to the flood relief mission.
Two people were killed late on Friday in the stormy weather and the high winds left more than 16,000 homes in north Wales without power.
A cruise ship passenger died and another was airlifted to shore after their 22,000-tonne vessel was hit by a freak wave in the English Channel. Water crashed through a window, injuring a number of the 735 passengers. An 85-year-old male passenger and a woman passenger in her 70s were airlifted off the ship. The male passenger later died.
In Holborn, central London, a woman died and a man was taken to hospital after a building collapsed on to a car. The accident happened at 11.05pm last night opposite Holborn tube station, a Metropolitan police spokesman said. "There were two occupants in the car and a woman was pronounced dead at the scene. A man was pulled from the car and was taken to hospital, where he is in a stable situation at the moment."
A man also died in hospital on Friday night after being hit by a falling tree in his garden in Gwynedd during Wednesday's storm.
The Environment Agency said the misery would continue into next week. By late Friday it had issued 23 severe flood warnings - meaning there is a threat to life - along the Thames, the Severn at Gloucester, on the Somerset Levels, and on the south coast, along with hundreds more flood warnings and alerts across England and Wales.
Forecasters said that high sea levels and waves up to 10 metres (33ft) high created a high risk of flooding to parts of the Dorset coast this weekend, particularly Christchurch, Chiswell and Preston.
Major General Patrick Sanders, assistant chief of defence staff, told a Whitehall briefing that 2,200 sailors, soldiers and RAF crews were involved in the relief effort and a further 3,000 military personnel were on standby. "This is not our day job. Our day job looks more like Afghanistan, but our role is to defend the country from any threats, and that includes weather as well," he said.
The RAF earlier deployed a Tornado reconnaissance jet to capture images of the flood-ravaged Thames valley, where more than 1,000 homes were evacuated and 11 military helicopters were ready to be called into action. The Thames has risen to its highest levels in 60 years, forecasters say, with communities in Windsor, Maidenhead, parts of Surrey, Buckinghamshire, west Berkshire and Reading at risk of significant flooding in the coming days.
The exceptional weather has prompted the Environment Agency to pause its controversial redundancy programme - the subject of heated exchanges between David Cameron and Ed Miliband during prime minister's questions - because it was "quite rightly prioritising incident response".
The prime minister said on Friday that the government was "fighting on every front to help people". He said: "We are making sure that today, before the next rise in the level of the Thames over the weekend, we do everything we can to protect more homes and protect more communities.
"Of course I am very sorry for any way that people have suffered. What we have tried to do is stand up the emergency response arrangements as quickly as we could," he added.