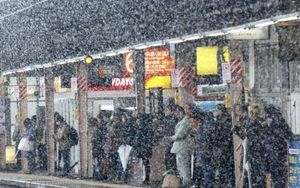 Heavy snow fell on Tokyo for the second this time week, forcing some companies to cancel work and send their employees home. Nissan Motor Co.'s Yokohama office asked its employees to head home early because snow has already impeded plane and railway services.
The Japan Meterological Agency said to prepare for as much as 10 centimeters, or 4 inches, of snowfall within the next 24 hours in Tokyo. Just last weekend, a record 24 centimeters of snow fell on the Japanese capital. Broadcasting company NHK reported that the amount of snow over the weekend was
worst snowfall to hit the city in 45 years
. Train and plane services were paralyzed because of the snow, leaving many commuters stranded. While ANA Holdings Inc. and Japan Airlines Co., had to cancel 138 domestic and international flights, while six lines from the East Japan Railway Co. were stopped from running. On the other hand, bullet trains such as those from Central Japan Railway Co. were only delayed for up to 50 minutes, as wells as lines from West Japan Railway Co.
Due to the cancellation of 63 domestic flights by ANA, around 9,500 passengers were rendered helpless by the storm, according to Ryosei Nomura of ANA. The heavy snowfall also forced the closure of a runway at Nagoya airport because of the thick ice on the ground. Chris Keefe from Nissan Motor Co. asked employees to leave by 12:30 p.m on Friday because of the dangers heavy snowfall pose, such as slipping off the icy ground, lack of transportation, and roads closed to traffic because it's rendered impassable.