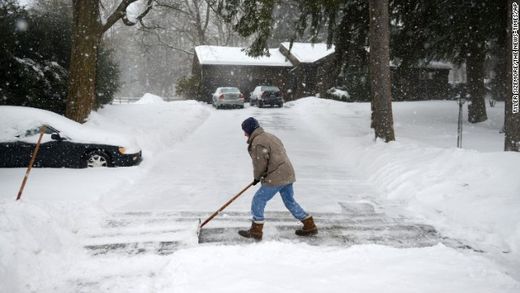 As if the East Coast hadn't gotten the point by now, Mother Nature drove it home yet again -- that this is winter, hear it roar.
The storm that threw down a concoction of sleet, snow and freezing rain over the South is pounding an icy path from Philadelphia to Maine Friday.
It is burying many places in the Northeast under up to 20 inches of total snow accumulation, the Nation Weather Service says.
The skies will be teeming with flakes falling at a rate of 2-3 inches per hour in the northernmost regions. Massive piles of snow will become a stumbling block to most people there.
But closer to Philadelphia, freezing rain could make things dangerously slick, the weather service said.
Winter storm wallops Northeast Snowplow kills pregnant woman in NYC Vehicles slipping and sliding in the storm Storm might ruin Valentine's Day
Even in the North, where people are more accustom to dealing with winter's trickery than their compatriots farther South, fast-falling snow on Thursday caused tractor-trailers to jackknife. It prompted authorities in New York to ban commercial traffic on Interstate 84 -- a major east-west highway running through the state.
By nightfall, the New York metro area was already cloaked in heavy white: The National Weather Service reported up to 11 inches in the Bronx, 14 inches in Fairfield, Connecticut, and even more than that in East Rutherford, New Jersey, home to the recent Super Bowl.
And it's not like the storm is loosening its grip.
Another round of snow is expected to confetti the same area overnight with 1 to 3 inches. And the Catskill Mountains could see two feet of snow before the storm runs its course.
Enough already. Really.
For some, the issue isn't just the fact that there's snow: This is winter, after all, in the Northeast. But it's more that people there haven't gotten much of a reprieve.
That's why New York Mayor Bill de Blasio, opening up his press conference Thursday, said: "
Welcome to winter storm six of the last six weeks."
And as New Jersey Gov. Chris Christie pointed out before the worst of the storm hit: "This has just been a brutal winter where it never really has gotten warmer. And so the natural melting away of snow and ice is not happening."
Especially over its full course, this storm has proven to be nothing to toy with.
At least 16 deaths have been blamed on the storm. Three of them were in Howard County, Maryland, where three men -- ages 45, 55 and 57 -- suffered suspected cardiac arrest "while in the act of shoveling snow," said county spokesman Mark Miller, who noted that what fell there was "a heavy wet snow."
There were also three deaths apiece in Texas and North Carolina, including one in a rural part of the latter due to a falling tree limb. And in the New York borough of Brooklyn, a 36-year-old pregnant woman died after being struck by a small tractor clearing snow. Her nearly full-term baby was delivered by cesarean section at a hospital and was in critical condition.
Reopening an airport in the storm? Southeast paralyzed by snow and ice Snowstorm churns north along east coast It's the snowplow that wows
Amid such tragedy, even as people hunker down or cope without electricity, life has gone on, too.
Augusta Kalsky documented the snowy, icy, windy morass Thursday for CNN iReport, calling this system "one of the more aggressive Nor'easters" she's seen since returning to Manhattan four years ago.
At the same time, she added, "The usual drivers and pedestrians (are) attempting to go about their business as usual."
Power out, planes grounded
The power grid is recovering farther South, bringing the number of customers without power to just over 525,000 as of early Friday. That's down from 625,000 outages reported late Thursday.
As customers in previously hit regions get power lines reconnected, the number of customers losing power in the winter-hardier north has remained relatively low.
As the storm shifts north, the flight cancellation misery is shifting with it. In Atlanta, where much of the ice melted Thursday, the airport has freed back up, according to Flightaware.com, which tracks flight cancellations and delays.
On the other end of the storm, in New York, Philadelphia and Washington, cancellations and delays are piling up. In the early hours of Friday, more than 1,000 flights were already canceled.
But even that may represent an overall improvement.
Thursday's aerial headaches topped out at more than 6,500 cancellations and more than 4,000 delays.
Charlotte's airport in North Carolina was among the most impacted Thursday, and early Friday, it was still near the top of the flightaware.com's misery list.
Rail travel hasn't been immune, either, but it is looking much better.
Amtrak had suspended some service in the Northeast, South and Mid-Atlantic regions Thursday, but only two long-distance services were cancelled for Friday.
Relief from snow and ice is on its way in the form of warmer temperatures moving in from the South on up. Highs on Friday are in the 40s as far north as Richmond, Virginia, which should help turn the slippery roads just a day or two prior into a bad memory.
Greater Atlanta's 6 million residents came away from the storm in relatively good shape, having learned their lesson from the icy debacle that turned it into a miserable parking lot two weeks ago. This time they stayed off the roads.
North Carolinians got a taste of that misery in this storm, when motorists hit the roads as the snow fell and packed it down on streets, turning it into slick ice.
But the time the spent trapped in their cars was more of an inconvenience than a tragedy.