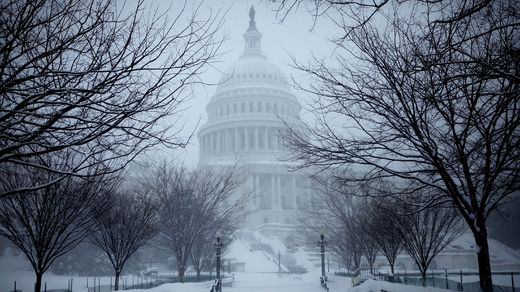 A major winter storm is expected to barrel up the East Coast mid-week, bringing a potentially significant snowfall to the already winter weary Washington region.
The powerful Nor'easter will blow into the mid-Atlantic region sometime after dark Wednesday is forecast to dump between 6 inches and a foot of snow on the area before blowing north Thursday afternoon.
"There's even a chance of more than a foot, especially just north and west of the District," meteorologist Bill Deger said.
WUSA 9 meteorologist Topper Shutt also believes the storm has the potential to be a monster.
"This could be the biggest storm of the season," said Shutt.
A mix of rain and sleet could decrease accumulations in southern Maryland and eastern Virginia, but the immediate Washington region should primarily see snow.
A Winter Storm Watch has been issued for the entire D.C. and Baltimore metro areas from 7 p.m. Wednesday to 10 p.m. Thursday. A Winter Storm Watch means there is a potential for significant snow accumulations that may impact travel, according to the National Weather Service.
Virginia Gov. Terry McAuliffe has declared a state of emergency for the Commonwealth. Amtrak has suspended some service in the Southeast and Mid-Atlantic regions.
The heaviest snow should fall between 10 p.m. Wednesday and 3 p.m. Thursday.
"The morning commute on Thursday is definitely going to be an issue," said Deger. "That's when we expect the heaviest snow will move though."
The NWS warns that roads may become snow covered and slippery, and travel may be dangerous Wednesday night and Thursday. Snow likely will be wet and heavy, and wind gusts up to 30 mph could lead to power outages.
"There are some differences in this storm system between the weather models. Some of them are showing more rain mixing in and some of them are showing even heavier snow," NWS Meteorologist Amy Bettwy says. "So there are some uncertainties still, but the potential for a high-impact storm looks likely."
If the storm shifts east, the heaviest snow could fall along the I-95 corridor. If the storm stays along the coastline, a surge of warmer air from the ocean would turn precipitation into a wintry mix or rain.
"Mainly along the I-95 corridor and east, there is larger potential for sleet and possibly rain to mix in, especially on Thursday," Bettwy added. "Farther west of that area looks like it could be mostly snow for this storm."