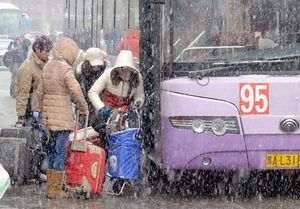 Snowstorms moved further south on Sunday, battering parts of Central and East China, delaying flights and forcing road closures, as forecasters warned rain and snow will continue in those areas this week.
Hubei, Hunan, Jiangxi and Zhejiang provinces were among the areas hardest hit, as dozens of flights were delayed and several highways closed.
Snowfall in those areas is expected to continue through Monday afternoon.
Around 20 flights had been delayed by 10am on Sunday at Nanchang Changbei International Airport in the capital of Jiangxi province due to ice on the taxiway. Entrances to several highways in the province were also closed as the number of road accidents related to slippery conditions increased, according to the provincial transportation department.
On a section of the Shanghai-Chongqing Expressway in the Enshi Tujia and Miao autonomous prefecture, hundreds of motorists were forced to spend the night in a highway tunnel on Saturday as the blizzard caused a number of traffic accidents and road closures.
The road section was reopened at around 4pm on Sunday after a closure of more than 10 hours, according to the provincial traffic police.
Heavy snowfall moves south, causing flight delays, road closures
The snow did not disrupt flights at the Huanghua International Airport in Changsha, capital of Hunan province, according to airport spokesman Liu Quan.
Liu said the airport has increased its capacity to remove ice on the runways and aircrafts, but meteorological authorities said the snowstorms could continue for several days.
One-third of the counties in Southwest China's Guizhou province were affected by freezing rain on Sunday, according to the provincial meteorological authority.
The snowy weather was blamed for two deaths in road accidents in northern parts of the Xinjiang Uygur autonomous region, the provincial civil affairs department said on Saturday.
As much as 45 centimetres of snow has fallen in some counties and 60 to 80 centimetres in some mountainous areas, killing 1,128 livestock and disrupting the lives of 140,000 people, the authority said.
The snowstorm also forced 1,852 residents to relocate, toppled 148 houses and severely damaged another 3,408 houses.
Nearly 2,000 people have been rescued by workers with the roadway bureau of Emin county since January 29.