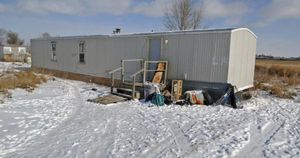 A Standing Rock Sioux member died from hypothermia, authorities believe, due to lack of heat during a propane shortage that recently prompted the tribe to declare a state of emergency. Nearly 90 percent of the Standing Rock Sioux Reservation's residents use propane to heat their homes, reported
KFYRTV.com
.
Debbie Dogskin's adult son, who resided with his mother in the Sioux Village mobile home on the outskirts of Fort Yates, called an ambulance when he found her unresponsive early Tuesday.
When emergency responders arrived, Dogskin's propane tank was empty, and the temperature inside her home matched that of outside, 1 degree below zero. Her portable heater also appeared to be broken, Sioux County Sheriff Frank Landeis told
GrandForksHerald.com
.
An autopsy is scheduled for Thursday, with results expected on Friday, Tribal chairman Dave Archambault told
BismarckTribune.com
.
Lack of propane and frigid temperatures have significantly impacted the Midwest, and the problem is exacerbated on the Standing Rock Reservation plagued by poverty and housing issues. Many tribal members can't afford propane, which has nearly doubled in price per gallon. But costs are expected to decrease soon, Mike Rud, North Dakota Petroleum Marketers Association president, told
BismarckTribune.com
.
The Standing Rock Sioux Tribe has opened shelters in Wakpala, South Dakota and Fort Yates, North Dakota, for those without heat. The American Red Cross is supplying hot meals to the shelters and providing cots and blankets.