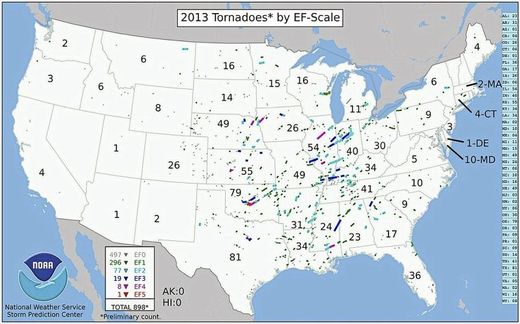 Oklahoma's 79 tornadoes in 2013 was the second-greatest total in the nation, according to preliminary data released Wednesday by the National Oceanic and Atmospheric Administration.
The total topped the state's average of 57 tornadoes per year between 1981 and 2010, according to NOAA data. But the number didn't eclipse the 145 reported in 1999, the most since officials began recording tornado data in 1950.
Kansas, Texas and Florida annually average more. Only Texas, with 81 tornadoes in 2013, had more than Oklahoma last year.
"It was a well-above-average year for Oklahoma," Greg Carbin, a warning coordination meteorologist for the National Oceanic and Atmospheric Administration. "Nationally, it was well below normal. Even when you look at long-term numbers and adjust for the increase in the number reported, we see that 2013 was very below the average."
Carbin said just 898 tornadoes were reported nationwide in 2013. Typically more than 1,000 are reported in a calendar year.
The numbers were released in advance of the National Tornado Summit, being held Monday and Tuesday at the Cox Convention Center in Oklahoma City.
Insurance adjustors, as well as National Weather Service representatives and the mayors of Moore, Tuscaloosa, Ala., Hattiesburg, Miss., and Joplin, Mo., are attending the summit in hopes they can all learn something new from their experiences, said Kelly Collins, director of communications for the Oklahoma Insurance Department.
Projecting if an upcoming season or year will be active is difficult, Carbin said. A study published recently draws a parallel between early season tornadic activity and the temperature differential between the Gulf of Alaska and the Gulf of Mexico.
"Say we have a relatively strong cool phase," Carbin said. "That can tend to support a more active storm track in late winter and spring, but it only explains a small percentage of overall activity. ... It's hard to see that data and say 'Well, it's going to be a big year.' "
Yet Carbin said the last time they had that "strong cool phase" was in 2011.
"And we saw strong activity in 2011," he said.
The May 20, 2013, tornado in Moore was the only EF5 registered in the nation in 2013. It was responsible for more than 20 deaths, hundreds of injuries and more than a billion dollars in damage.
Tornadoes are graded on the Enhanced Fujita Scale, a rating system that derives its rankings from the amount of damage caused. Tornadoes that earn the lowest rank on the scale, EF0, typically have winds between 65 and 85 mph. Winds in EF5 tornadoes top 200 mph.
Winds in the Moore tornado topped out at 210 mph. The May 31, 2013, tornado in El Reno had its classification revised a number of times and was eventually graded an EF3.
Registered wind speeds reached nearly 300 mph, but researchers said no on-ground damage was found that could justify more than an EF3 classification.
It was the widest tornado in recorded history, measuring 2.6 miles across at its widest point.