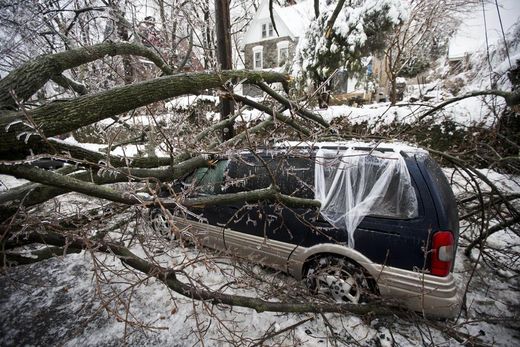 A major winter storm advancing across the U.S. midsection Wednesday brought heavy snow, heavy ice accumulation and heavy rainfall to two-thirds of the country.
At least 115 million people in more than a dozen states -- more than a third of U.S. population -- were under some form of winter weather alert, the Weather Channel reported.
More than
2,000
flights were canceled and nearly
1,100
were delayed as of early Wednesday, flight-tracking website Flightaware.com said.
Roads and highways were closed due to the weather and accidents, and mass transit was curtailed in many areas.
Government offices and schools were shut in hard-hit areas. Many school districts already exceeded their "snow day" allotments, so they were now deducting days from students' spring break or adding days to the school year.
The governors of at least three states -- Mississippi, Kansas and New Jersey -- declared states of emergency to deal with storm response.
Gov. Andrew Cuomo said late Tuesday New York had 1,789 plows, 359 loaders and 4,185 operators "stationed and ready for the storm, along with 259,605 tons of salt."
New York City's Office of Emergency Management issued a hazardous travel advisory.
Other Northeast cities declared snow emergencies.
Up to a foot of snow fell or was forecast to fall in parts of Kansas, Missouri, Illinois, Indiana, Ohio, Pennsylvania, New York, Massachusetts, Vermont, New Hampshire and Maine.
Five inches of snow fell in two hours at New Lexington in south-central Ohio, AccuWeather said.
The National Weather Service forecast 15 or more inches for the Catskill Mountains in New York and the Berkshires in western parts of Massachusetts and Connecticut.
Wednesday's 5 inches or more of snow in and around Chicago marked the 34th day of measurable snow this season, the Chicago Tribune said.
"The heaviest rate of precipitation will occur early Wednesday morning over the central Appalachians and New England," AccuWeather.com meteorologist Alex Sosnowski said.
On the southern edge of the snow was a wintry mix of rain and partly melted snow, which caused slick, icy roadways.
The weather was blamed for at least five traffic deaths in four states.
Among the dead was a 36-year-old Arkansas man, Jeffery Dee Buck of Des Arc, who died in a single-vehicle crash when he lost control on an icy bridge and slammed into a stand of trees. Freezing rain was falling when the crash occurred, said the police report cited by the Weather Channel.
Slick roads were also suspected in a fatal two-vehicle crash in Des Moines, Iowa, police said.
Blowing snow was a possible factor in a collision between a farm tractor and a pickup truck in Nebraska in which a 36-year-old Ashland man died, police said.
Numerous severe accidents closed parts of Interstate 70 and I-68 in Maryland in both directions.
I-84 in New York was shut to semitrailer trucks.
Nearly 5 inches of sleet was on the ground in the southeastern Indiana town of Milan, AccuWeather reported.
Heavy ice accumulated from Arkansas into the lower Ohio Valley and Middle Atlantic States, and heavy rain fell in parts of the Ohio and Tennessee valleys, with possible flooding the weather service said.
Source: UPI