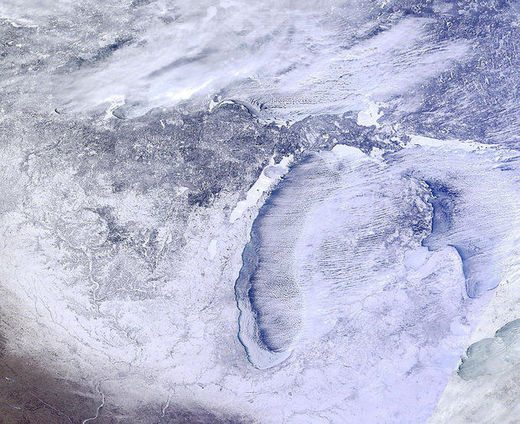 The Great Lakes have reached 62 percent ice coverage due to extreme cold, and in the weeks ahead that can have a triple-barreled consequence on Michigan's weather: More cold. Less lake-effect snow. More sun.
The coverage is growing rapidly.
The ice area more than doubled in just one recent week, from 22 percent coverage on Jan. 15 to 48 percent by Jan. 22. From Jan. 22 to Jan. 28 the average Great Lakes ice grew another 14 percent.
Lake Superior is 69 percent covered in ice. Lake Michigan has 46 percent ice cover, while Lake Huron is 71 percent ice covered. Lake Erie is almost totally covered with ice, at 96 percent. Lake Ontario has 26 percent ice cover.
George Leshkevich, physical scientist at NOAA's Great Lakes Environmental Research Laboratory, says the oddity this year is how early in the winter this amount of ice cover has formed.
The 62 percent ice cover already ranks this year as 17th in maximum ice coverage in the last 40 years. 1994 had the highest ice cover at 94.8 percent.
Dry arctic air has taken over much of the Great Lakes region, allowing for clearing skies over land, and even over parts of the lakes. That gave us a high resolution satellite photo posted Tuesday Jan. 28, 2014 by the Space Science and Engineering Center.
The photo shows a large area of ice formed on the west side of Lake Michigan, off the shore of northern Indiana through the Chicago area, and up the Wisconsin shoreline.
Ice also is covering Saginaw Bay and Green Bay. Although it is covered mostly in clouds, you can see ice on the southern shore of Lake Superior.
Another interesting visual is the lake effect cloud and snow process. Notice how the lake effect bands of clouds and snow are still developing where Lake Michigan's open water begins. This means the water is still warm enough right now in the ice-free areas to generate lake clouds and snow. But you can also see how the area of water is shrinking, which will have a big impact on Michigan's weather in the next few weeks.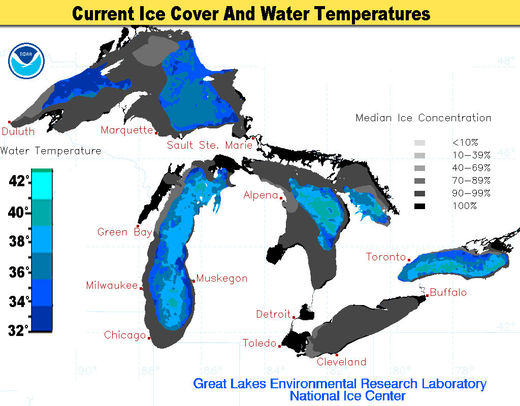 What are the water temperatures?
Western Lake Superior is near freezing, and should ice over quickly. Eastern Lake Superior has water temperatures between 32 and 37 degrees.
Lake Michigan and Lake Huron still have pockets of water with surface temperatures around 40 degrees. So it is not a coincidence that inland areas downwind of these warmer waters have continued to get pounded with lake effect snow.
Some parts of western Michigan have had over 15 inches of lake effect snow in the last five days.
The
second graphic
shows these surface water temperatures in the ice-free areas. The legend to the ice concentration is on the right side of the map, east of Lake Huron. The blue and green shaded areas are the surface water temperatures in the ice-free areas of the Great Lakes.
What will this mean for Michigan's weather?
It looks like the Great Lakes will become mostly ice covered in the next few weeks.
This will have a big impact on our weather here in Michigan.
First off, the lake effect snow will abate for much of the winter. Late in the season when the ice melts, there can be some light lake effect snow.
The flip side of no lake effect clouds is more sunshine. You will probably notice more sunshine over the next month, especially on cold, dry days. Eventually in February that sunshine may even warm our skin as it shines through our car windows. I think we all will agree that will be nice.
But you may not like the last consequence of frozen Great Lakes. We won't have the warming effect from Lake Superior and Lake Michigan anymore. In the recent two arctic outbreaks, while Michigan had low temperatures of five to 10 below zero, just across the lake in Wisconsin it was 20 below zero. Our "warmth" was due to Lake Michigan's 40 degree waters.
When the ice forms, Lake Michigan won't help us anymore. So if we get a third arctic outbreak to move down into Michigan, we may plunge to our coldest temperatures of the winter. This will have to happen in the next three weeks. As we get into late February, the increased power of the sun usually helps warm Michigan up a few degrees.
I do see signs of a third arctic outbreak, sometime between Feb. 6 and 10. Right now it doesn't look as potent of a cold shot, but that's still over a week from now.
I'll keep an eye on it for us.
I'll leave you with some positive news if you are sick of the cold. Time is on our side now. Spring always happens, and it will this year too. With every day the sun has more power. One day we will wake up, and it will be too hot.
Mark Torregrossa has been chief meteorologist for three television news stations in Michigan. A resident of the state for 20 years, he is an avid gardener and hunter. Email him at
mark@farmerweather.com
and find him on Facebook at
facebook.com/mark.torregrossa
and Twitter
@weathermanmark