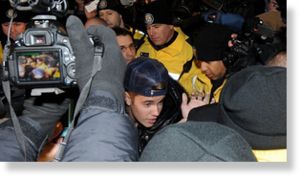 Sen. Mark Warner is not a Belieber.
Although the
whitehouse.gov
petition to deport Canadian pop star Justin Bieber has already surpassed the 100,000-signature threshold that triggers a White House response, the Democrat from Virginia told
FM 99
he wants to add his name. "As a dad with three daughters, is there some place I can sign?"
Then Warner followed up with this gem of a tweet:
It's true: I'm not a #Belieber. "Senator Mark Warner offers to sign petition to deport Justin Bieber" http://t.co/KQwY6hcN1a

- Mark Warner (@MarkWarner) February 4, 2014
Wanting to kick Bieber out of the country is a safe move for any politician running for reelection in 2014, as Warner is, given how much voting-age Americans don't like the guy. Check out the
2013, pre-DUI survey results
from Democratic-leaning Public Policy Polling: 54 percent of Americans said they had an unfavorable view of Bieber. Not only that, but his unpopularity was universal across party lines. Hating on Justin Bieber may be the bridge that unites this divided country.